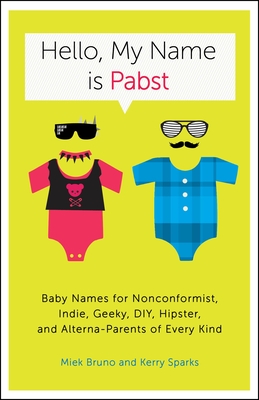 Hello, My Name Is Pabst: Baby Names for Nonconformist, Indie, Geeky, DIY, Hipster, and Alterna-Parents of Every Kind (Paperback)
Baby Names for Nonconformist, Indie, Geeky, DIY, Hipster, and Alterna-Parents of Every Kind
Three Rivers Press (CA), 9780770435936, 181pp.
Publication Date: October 23, 2012
Description
Finally, for alternaparents everywhere, the baby-naming book that will ensure that your baby has the coolest, most unique name on the playground.
Ashley and Jaden? Over. Atari, Bedford, Sailor, Puma? Oh-so-in. Indie-leaning alternaparents of every kind, from geeks to Goths, are all grown up and procreating, and they want names that reflect the individuality they pride themselves on. Hello, My Name Is Pabst shows them how to put their stamp on baby-naming, injecting fun into what can be an otherwise contentious process. Names are thematically arranged into lists including "Names You Can Drink at the Bar" (Jager, Hennessey), "Names That Fit Into Skinny Jeans" (Vette, Plank), "Vegan and Gluten-Free Names" (Miso, Quinoa), and "Names to CTRL+C and CTRL+V" (Adobe, Helvetica). Also included are "tipsters" for sparking naming creativity, such as opening a box of crayons or scanning the credits of a foreign film. Pabst presents a whole new approach to baby-naming for a whole new generation of parents who want names that look good on a tote bag and kick ass at the playground.
About the Author
Miek Bruno and Kerry Sparks work in book publishing at the Levine Greenberg Literary Agency. They don't have children, but you should let them name yours.
Praise For Hello, My Name Is Pabst: Baby Names for Nonconformist, Indie, Geeky, DIY, Hipster, and Alterna-Parents of Every Kind…
"There will be no duplication when you pick a name from Hello, My Name is Pabst."—Parenting

"Hello, My Name is Pabst  is a funny and refreshing take on the difficult business of figuring out what to call your child. And what not to call it. Probably shouldn't call your child 'it', actually." —Jeffrey Brown, author of Darth Vader and Son and Cats Are Weird
 
"Finally, a baby name book that breaks fresh ground for the hipster infants of today, who will rule the kindergarten with names like Zuccotti, Seitan, Fixie or Generic Surplus."—Rob Sheffield, author of Love Is a Mix Tape and Talking to Girls About Duran Duran
Advertisement