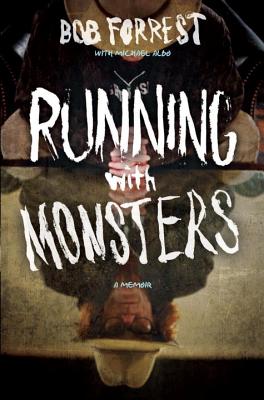 Running with Monsters
A Memoir
Hardcover

* Individual store prices may vary.
Description
"Celebrity Rehab" star and Thelonious Monster frontman Bob Forrest's memoir about his drug-fueled life in the L.A. indie rock scene of the '80s and '90s and his life-changing decision to become a drug counselor who specializes in reaching the unreachable.
Life has been one strange trip for Bob Forrest. He started out as a suburban teenage drunkard from the Southern California suburbs and went on to become a member of a hip Hollywood crowd that included the Red Hot Chili Peppers, Johnny Depp, and River Phoenix. Los Angeles was their playground, and they hung out in such infamous haunts as the Viper Room and the Whisky a Go Go.
Always one to push things to their limit, Bob partied the hardest and could usually be found at the center of the drama. Drugs weren't Bob's only passion. He was also a talented musician who commanded the stage as the wild and unpredictable lead singer of Thelonious Monster. They traveled the world, and their future seemed bright and wide open. But Bob's demons grew stronger as he achieved more success and he sank deeper into his chemical dependency, which included alcohol, crack, and heroin habits. No matter how many times he went to rehab, sobriety just wouldn't stick for him. Soon he saw his once-promising music career slip away entirely.
Eventually Bob found a way to defeat his addiction, and once he did, he saw the opportunity to help other hopeless cases by becoming a certified drug counselor. He's helped addicts from all walks of life, often employing methods that are very much at odds with the traditional rehab approach.
"Running with Monsters "is an electrifying chronicle of the LA rock scene of the 1980s and '90s, the story of a man who survived and triumphed over his demons, and a controversial perspective on the rehab industry and what it "really "takes to beat addiction. Bob tells his story with unflinching honesty and hard-won perspective, making this a reading experience that shocks, entertains, and ultimately inspires.
Praise For Running with Monsters: A Memoir…
"This book will f*** you up, but in the best way possible. Running with Monsters is the depraved, hilarious memoir of rock'n'roll and redemption by Celebrity Rehab svengali Bob Forrest. Told in collaboration with famed L.A.-underworld raconteur, Michael Albo, a book this twisted and funny hasn't been published since Fear and Loathing in Las Vegas. It's that good." —Evan Wright, author of Generation Kill
 
"There are drunks, there are junkies, there are bad, hope-to-die, never-coming-back-dope fiends—and then there's Bob Forrest….In Running With Monsters, Bob has produced a book every bit as crazed, savage, riveting, funny and ultimately, up-from-the-gutter enlightened as the man himself. Whether you're a smack-addled fuck-up, recovering user, or straight arrow aficionado of great survival stories—this is the book you have to get. Bob Forrest and writer Michael Albo have created an instant classic." —Jerry Stahl, author of Permanent Midnight and Happy Mutant Baby Pills

 "Countless memoirs have been published by rehabilitated celebrity addicts desperate to relate their toxic tales. You can toss most of 'em on the fire after reading Running with Monsters. Bob Forrest's back alley punk rock chronicle of self destruction and miraculous recovery raises the bar of transparency and transformation to inspiring new heights.  This book will blow minds and save lives." —Lonn Friend, Author of Life on Planet Rock and Sweet Demotion
Crown Archetype, 9780770435981, 240pp.
Publication Date: October 1, 2013
About the Author
BOB FORREST is a musician, certified addiction specialist and counselor, recovering addict who has been sober for 15 years, and the father of two sons.
or
Not Currently Available for Direct Purchase