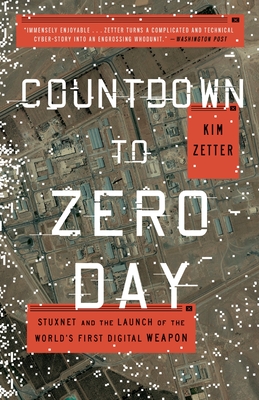 Countdown to Zero Day
Stuxnet and the Launch of the World's First Digital Weapon
Paperback

* Individual store prices may vary.
Other Editions of This Title:
Digital Audiobook (11/10/2014)
Description
A top cybersecurity journalist tells the story behind the virus that sabotaged Iran's nuclear efforts and shows how its existence has ushered in a new age of warfare—one in which a digital attack can have the same destructive capability as a megaton bomb. 

"Immensely enjoyable . . . Zetter turns a complicated and technical cyber story into an engrossing whodunit."—The Washington Post
 
The virus now known as Stuxnet was unlike any other piece of malware built before: Rather than simply hijacking targeted computers or stealing information from them, it proved that a piece of code could escape the digital realm and wreak actual, physical destruction—in this case, on an Iranian nuclear facility.
 
In these pages, journalist Kim Zetter tells the whole story behind the world's first cyberweapon, covering its genesis in the corridors of the White House and its effects in Iran—and telling the spectacular, unlikely tale of the security geeks who managed to unravel a top secret sabotage campaign years in the making.
 
But Countdown to Zero Day also ranges beyond Stuxnet itself, exploring the history of cyberwarfare and its future, showing us what might happen should our infrastructure be targeted by a Stuxnet-style attack, and ultimately, providing a portrait of a world at the edge of a new kind of war.
Praise For Countdown to Zero Day: Stuxnet and the Launch of the World's First Digital Weapon…
"An authoritative account of Stuxnet's spread and discovery . . . [delivers] a sobering message about the vulnerability of the systems—train lines, water-treatment plants, electricity grids—that make modern life possible."—Economist

"Exhaustively researched . . . Zetter gives a full account of this 'hack of the century,' as the operation has been called, [but] the book goes well beyond its ostensible subject to offer a hair-raising introduction to the age of cyber warfare."—The Wall Street Journal

"Part detective story, part scary-brilliant treatise on the future of warfare . . . an ambitious, comprehensive, and engrossing book that should be required reading for anyone who cares about the threats that America—and the world—are sure to be facing over the coming years."—Kevin Mitnick, New York Times bestselling author of Ghost in the Wires and The Art of Intrusion

"Unpacks this complex issue with the panache of a spy thriller . . . even readers who can't tell a PLC from an iPad will learn much from Zetter's accessible, expertly crafted account."—Publishers Weekly (starred review)

"A true techno-whodunit [that] offers a sharp account of past mischief and a glimpse of things to come . . . Zetter writes lucidly about mind-numbingly technical matters, reveling in the geekery of malware and espionage, and she takes the narrative down some dark electronic corridors. . . . Governments, hackers and parties unknown are launching ticking computer time bombs every day, all coming to a laptop near you."—Kirkus Reviews

"An exciting and readable story of the world's first cyberweapon. Zetter not only explains the weapon and chronicles its discovery, but explains the motives and mechanics behind the attack—and makes a powerful argument why this story matters."—Bruce Schneier, author of Secrets and Lies and Schneier on Security

Crown, 9780770436193, 448pp.
Publication Date: September 1, 2015
About the Author
Kim Zetter is an award-winning journalist who covers cybercrime, civil liberties, privacy, and security for Wired. She was among the first journalists to cover Stuxnet after its discovery and has authored many of the most comprehensive articles about it. She has also broken numerous stories over the years about WikiLeaks and Bradley Manning, NSA surveillance, and the hacker underground.
or
Not Currently Available for Direct Purchase