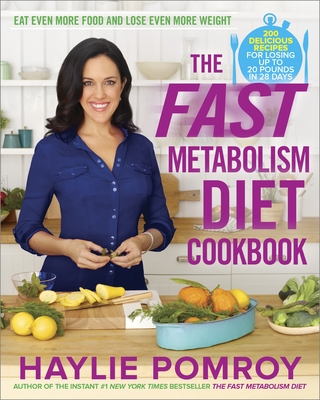 The Fast Metabolism Diet Cookbook (Hardcover)
Harmony, 9780770436230, 239pp.
Publication Date: December 31, 2013
Description
Turn your kitchen into a secret weapon for losing up to 20 pounds in 28 days through the fat-burning power of food
Use food as medicine to cook your way healthy in this must have companion to the bestselling diet sensation, The Fast Metabolism Diet. You will find over 200 simple, effective, mouthwatering, family-pleasing recipes designed to evoke change in your body with a plan that celebrates food, thrives on variety, and has you eating five to six times a day according to a three-phase plan strategically designed to keep your metabolism burning at lightning speeds.
On phase 1 you will cook to unwind stress and support your adrenals with nourishing breakfasts like Strawberry Pancakes and French Toast with Peaches, as well as delicious entrees like the Mediterranean Turkey with Wild Rice, Halibut Stir Fry, and Brown Pasta with Meat Sauce.
On Phase 2, you ll be cooking to unlock stored fat and feed the liver with protein-rich salads like the Grilled Turkey Bacon and Asparagus Salad, the Chicken Fajita Salad, and luxurious dinners like Lamb with Green Beans, Filet Mignon and Cabbage, and Rosemary Pork Tenderloin with Mustard Greens.
Then on Phase 3, it is time to use your kitchen to unleash the burn and ignite the Fast Metabolism hormones with high healthy fat meals like the Sprouted Grain Breakfast Burrito, Steak Fajita Avocado Wraps, and Fried egg with Olive Oil Spinach. You ll prepare dairy free creamy soups and stews like Leek and Cauliflower Soup and Veggie Chili, and serve crowd-pleasing dinners like Turkey and Bell Pepper Casserole, and Cornish Game Hens with Mushroom Quinoa Stuffing
As you cycle through all three phases each week you ll add kindling to your metabolic fire with amazing snacks like sweet potato fries, crispy kale chips, and fresh fruit salad, or mounds of veggies served with dips and dressings like the Black Bean Cilantro Dip, Mango Salsa, or creamy White Bean and Dill Hummus.
And to top it all off, for each phase you ll be whipping up rich desserts and smoothies, like Baked Apple Crisp, Chocolate cherries, Coconut Almond Pudding, Melon-Mint Smoothie, and Blackberry Sorbet.
Plus plenty of vegetarian, vegan, and gluten-free options, such as a hearty lentil chili, savory Artichoke-Avocado Salad, silky Butternut Squash Soup, and Garden Egg White Souffle.
Full of helpful and affordable hints for cooking on each of the three phases, a wealth of freezer-friendly recipes to cook in bulk, and dozens of slow cooker options that can be prepared in under 5 minutes, this is the ideal tool for the busy mom, the on-the-go professional, or anyone who wants to make delicious, nutritious, home-cooked food part of his or her Fast Metabolism lifestyle.
About the Author
#1 New York Times Bestselling author Haylie Pomroy is well known in Hollywood and in the medical community for her ability to effect rapid weight loss by using food to jump-start the metabolism. With Integrative Health Care Clinics in Beverly Hills, Burbank, Irvine, and Fort Collins, her celebrity clients include Jennifer Lopez, LL Cool J, Robert Downey Jr., Reese Witherspoon, and NFL athletes. She has appeared on Doctor Oz, Good Morning America, Katie Couric, EXTRA TV, Access Hollywood, and been featured in First for Women, People Magazine, Harper's Bazaar, Marie Clair, New Beauty, and more.
Advertisement