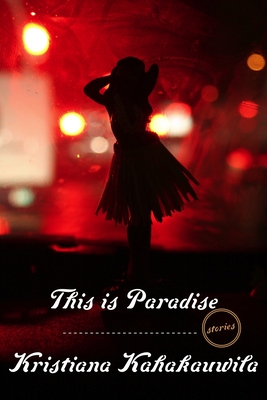 This Is Paradise
Stories
Paperback

* Individual store prices may vary.
Description
Elegant, brutal, and profound—this magnificent debut captures the grit and glory of modern Hawai'i with breathtaking force and accuracy.
 
In a stunning collection that announces the arrival of an incredible talent, Kristiana Kahakauwila travels the islands of Hawai'i, making the fabled place her own. Exploring the deep tensions between local and tourist, tradition and expectation, façade and authentic self, This Is Paradise provides an unforgettable portrait of life as it's truly being lived on Maui, Oahu, Kaua'i and the Big Island.

In the gut-punch of "Wanle," a beautiful and tough young woman wants nothing more than to follow in her father's footsteps as a legendary cockfighter. With striking versatility, the title story employs a chorus of voices—the women of Waikiki—to tell the tale of a young tourist drawn to the darker side of the city's nightlife. "The Old Paniolo Way" limns the difficult nature of legacy and inheritance when a patriarch tries to settle the affairs of his farm before his death.

Exquisitely written and bursting with sharply observed detail, Kahakauwila's stories remind us of the powerful desire to belong, to put down roots, and to have a place to call home.
Praise For This Is Paradise: Stories…
"Vividly imagined, beautifully written, at times almost unbearably suspenseful—the stories in Kristiana Kahakauwila's debut collection, This Is Paradise, are boldly inventive in their exploration of the tenuous nature of human relations. These are poignant stories of 'paradise'—Hawai'i—with all that 'paradise' entails of the transience of sensuous beauty." —JOYCE CAROL OATES

"This is Paradise gives us a raw view of local color in all of its perplexities and pleasures....[The stories] give us a picture of island life quite disturbing at the heart of things—the other side of paradise." —Alan Cheuse, All Things Considered

"Gritty, haunting, and suspenseful. This is Paradise navigates an ocean of tension between tourists and islanders in paradisiacal, paradoxical Hawai'i." —Kristy Davis, O, The Oprah Magazine
 
"[A] sparkling debut story collection....A writer with one foot in the native Hawaiian community and the other in the mainland mainstream gives us an edgy, unmistakably authentic glimpse of the harder side of island life. Kahakauwila captures in six related stories the striving lives, colorful pidgin dialect, and varied relationships that anchor and challenge her strikingly drawn characters." —Lisa Shea, ELLE

"[This is Paradise] is as breathtaking as a trip up the Na Pali Coast — not a lighthearted day at the beach, but culturally complex, historically significant, and something special in the world." —Daily Candy

"Excellent....Accomplished. This Is Paradise [is] a collection from gifted newcomer Kristiana Kahakauwila." —Sam Sacks, Wall Street Journal

"Vivid storytelling and unflinching candor make this collection haunting." —Cleveland Plain Dealer

"Filled with an energy and outrage reminiscent of Jamaica Kincaid....Kahakauwila's debut short-story collection offers a stirring glimpse into the daily lives of contemporary Hawaiians torn between native traditions and the pull of mainland lifestyles." —Publishers Weekly

"One can almost smell the tropics emanating from each page, thanks to Kahakauwila's startling and vivid imagery. With prose like a riptide, This Is Paradise is the perfect way to mentally transport you to Hawai'i from the comfort of home." —BookPage

"Kahakauwila is an admirable storyteller, able to give characters depth and draw in her audience while evoking strong emotions with spare language. Reminiscent of Lois-Ann Yamanaka's similarly gritty, no-holds-barred view of life in Hawaii, she is a fresh new voice to be watched." —Library Journal

"Finely wrought work from an impressive new talent. Tourists don't see the Hawai'i unsparingly yet lyrically depicted in Kahakauwila's debut collection. The author's assured use of both pidgin and standard English mirrors her characters' uneasy feeling of straddling two worlds: a timeless one in harmony with nature and a commercial, modern one that is both invasive and enticing." —Kirkus

"Cogent explorations of regret, remorse, ambition, and ambivalence can take place anywhere on earth, but in a land known for its beguiling enchantment, such fatalism takes on a forbidding, even sinister, mien as Kahakauwila deconstructs the aloha myth."  –Booklist

"The immersive stories of This Is Paradise are a lithe blend of formal invention and traditional narrative pleasures. As such they reflect Kristiana Kahakauwila's intimate but expansive vision of a Hawai'i forged from the collisions of past and present, here and there. Her protagonists are as richly distinctive as the pidgin they speak, and yet each struggles profoundly with identity—that negotiation between ourselves and the world, which is at once Hawaiian, American, universally and compellingly human." —PETER HO DAVIES

"In these lively, accomplished stories, Kristiana Kahakauwila paints a vivid portrait of modern Hawai'i—not the gauzy ideal of tourist vacations, but the messy, fascinating reality of its inhabitants.  This is a impressive debut by a writer to watch." —ALIX OHLIN

"These six masterful stories move so fluently through their grand old materials—sex, longing, love, loneliness—that it's easy to overlook how fierce they are, and how surprising.  Again and again, Kristiana Kahakauwila renders the complex beauties of her native Hawai'i in a vivid, burning, and altogether original light. Glowing with life, peril, and beautifully scaled human drama, This Is Paradise is full of people you'll never forget, and will never want to."
--MICHAEL BYERS
Hogarth, 9780770436254, 240pp.
Publication Date: July 9, 2013
About the Author
KRISTIANA KAHAKAUWILA, a native Hawaiian, was raised in Southern California. She earned a master's in fine arts from the University of Michigan and a bachelor's degree in comparative literature from Princeton University. She has worked as a writer and editor for Wine Spectator, Cigar Aficionado, and Highlights for Children magazines. She taught English at Chaminade University in Honolulu and is now an assistant professor of creative writing at Western Washington University.