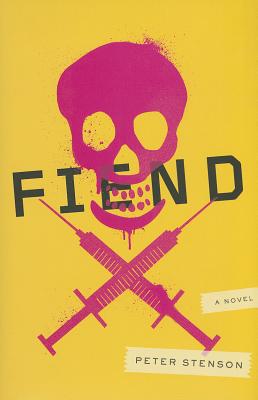 Fiend (Hardcover)
Crown Publishing Group (NY), 9780770436315, 295pp.
Publication Date: July 9, 2013
Other Editions of This Title:
Digital Audiobook (7/8/2013)
Paperback (4/8/2014)
* Individual store prices may vary.
Description
There's more than one kind of monster.

   When Chase Daniels first sees the little girl in umbrella socks tearing open the Rottweiler, he's not too concerned. As a longtime meth addict, he's no stranger to horrifying, drug-fueled hallucinations.  
   But as he and his fellow junkies soon discover, the little girl is no illusion. The end of the world really has arrived. 
   The funny thing is, Chase's life was over long before the apocalypse got here, his existence already reduced to a stinking basement apartment and a filthy mattress and an endless grind of buying and selling and using. He's lied and cheated and stolen and broken his parents' hearts a thousand times. And he threw away his only shot at sobriety a long time ago, when he chose the embrace of the drug over the woman he still loves. 
   And if your life's already shattered beyond any normal hopes of redemption…well, maybe the end of the world is an opportunity. Maybe it's a last chance for Chase to hit restart and become the man he once dreamed of being. Soon he's fighting to reconnect with his lost love and dreaming of becoming her hero among civilization's ruins. 
   But is salvation just another pipe dream? 
   Propelled by a blistering first-person voice and featuring a powerfully compelling antihero, Fiend is at once a riveting portrait of addiction, a pitch-black love story, and a meditation on hope, redemption, and delusion—not to mention one hell of a zombie novel.
About the Author
PETER STENSON received his MFA from Colorado State University in 2012. His stories and essays have been published in "The Sun, The Bellevue Literary Review, The Greensboro Review, Confrontation, Post Road, Fugue, Harpur Palate, The Pinch, Blue Mesa Review," and elsewhere. He is also a recovering addict and has been sober for 10 years. He lives with his wife and daughter in Denver.
Praise For Fiend…
"Certain to invite comparisons to Hubert Selby and Cormac McCarthy…one scalding pressure cooker of a novel, and I advise you to buckle up and hold on tight because you're in for one hell of a ride.  --Donald Ray Pollock, author of The Devil All the Time and Knockemstiff
 
"This is the real meat. The last zombie novel you'll ever need."—Warren Ellis, New York Times bestselling author of Gun Machine and Twisted Little Vein
 
"Peter Stenson has done the near impossible in delivering a savage fire-storm of a page-turner while also enabling a hard and earnest look at addiction and love.  I tore through Fiend with the crazed fervor of an addict, but like all great stories these characters lingered in my thoughts long after I turned the last beautiful and brutal page."—Alan Heathcock, National Magazine Award-winning author of Volt
 
"Peter Stenson is the bastard child of Cormac McCarthy and George Romero. In Fiend, he takes the reader on a dark joyride replete with junkies, zombies, and buckets of gore. Here is a novel that will jack your pulse and break your heart all at once."—Steve Almond, New York Times bestselling author of Candyfreak and Rock and Roll Will Save Your Life
or
Not Currently Available for Direct Purchase