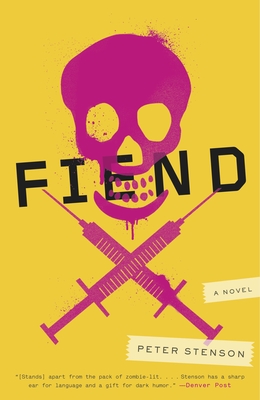 Fiend (Paperback)
A Novel
Broadway Books, 9780770436339, 304pp.
Publication Date: April 8, 2014
Other Editions of This Title:
Digital Audiobook (7/8/2013)
Hardcover (7/9/2013)
* Individual store prices may vary.
Description
There's more than one kind of monster.

When Chase first sees the little girl in umbrella socks disemboweling the Rottweiler, he's not too concerned. As a longtime meth addict, he's no stranger to such horrifying, drug-fueled hallucinations.  

But as he and his fellow junkies soon discover, the little girl is no illusion. The end of the world really has arrived. And with Chase's life already shattered by addiction, the apocalypse might actually be an opportunity—a last chance to hit restart, win back the love of his life, and become the person he once dreamed of being. That is, if the darkness inside him doesn't destroy everything—again.
About the Author
PETER STENSON received his MFA from Colorado State University in 2012. His stories and essays have been published in The Sun, The Bellevue Literary Review, The Greensboro Review, Confrontation, Post Road, Fugue, Harpur Palate, The Pinch, Blue Mesa Review, and elsewhere. He is also a recovering addict and has been sober for 10 years. He lives with his wife and daughter in Denver.
Praise For Fiend: A Novel…
"Shockingly personal...Shaun of the Dead meets Trainspotting." —MTV.com

"Shambling, scabrous figures rotting from the inside out and driven by an insatiable hunger—there are more than a few similarities between meth heads and zombies. Stenson exploits all of them in Fiend." —Entertainment Weekly

"[Stands] apart from the pack of zombie lit...Stenson has a sharp ear for language and a gift for dark humor." —Denver Post

"Best read of the year. Best zombie book, ever. Masterful illustration about how painful and overwhelming addiction can be...I want every book I read to enthrall me as consistently and emotionally as Fiend did." —SF Signal

"Certain to invite comparisons to Hubert Selby and Cormac McCarthy…one scalding pressure cooker of a novel, and I advise you to buckle up and hold on tight because you're in for one hell of a ride." —Donald Ray Pollock, author of The Devil All the Time and Knockemstiff 
 
"This is the real meat. The last zombie novel you'll ever need." —Warren Ellis, New York Times bestselling author of Gun Machine and Twisted Little Vein
 
"Peter Stenson has done the near impossible in delivering a savage fire-storm of a page-turner while also enabling a hard and earnest look at addiction and love.  I tore through Fiend with the crazed fervor of an addict, but like all great stories these characters lingered in my thoughts long after I turned the last beautiful and brutal page." —Alan Heathcock, National Magazine Award-winning author of Volt
 
"Peter Stenson is the bastard child of Cormac McCarthy and George Romero. In Fiend, he takes the reader on a dark joyride replete with junkies, zombies, and buckets of gore. Here is a novel that will jack your pulse and break your heart all at once." —Steve Almond, New York Times bestselling author of Candyfreak and Rock and Roll Will Save Your Life