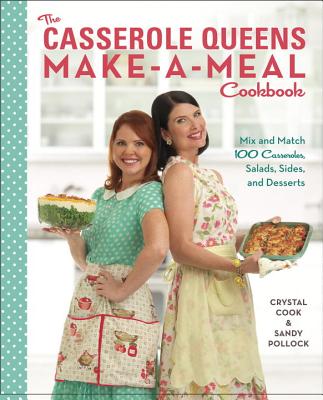 The Casserole Queens Make-a-Meal Cookbook (Paperback)
Mix and Match 100 Casseroles, Salads, Sides, and Desserts
Clarkson Potter, 9780770436803, 208pp.
Publication Date: August 20, 2013
* Individual store prices may vary.
Description
Whether you are looking to make dinner tonight, a potluck crowd-pleaser, or a fix-and-freeze dish to save for later, with 100 recipes The Casserole Queens Make-a-Meal Cookbook has everything you need to prepare a delicious homemade meal.
 
Crystal Cook and Sandy Pollock are shaking things up. The sassy duo—also known as the Casserole Queens—creates one-dish wonders that solve dinnertime conundrums everywhere. Now these ladies are breaking out of the 9 x 13-inch mold with fresh sides and salads that will round out weeknight meals. In The Casserole Queens Make-a-Meal Cookbook, you will find 100 recipes that you can mix and match as you please, with plenty of make-ahead tips so that you can always be prepared.

Need to pull together dinner in a flash? Check! Need to plan an elegant meal for the in-laws? Check! Need to cook and successfully transport a dish to a party? Check! In this book, you'll find: 

   • 46 make-from-scratch casseroles, 37 salads and sides, 13 quick-fix desserts, and more
   • Gluten-free and diabetic-friendly recipes (you'd never know it!)
   • Plenty of satisfying vegetarian main dishes
   • A chapter of recipes using seven ingredients or fewer—most of which are likely already in your pantry
   • Variations, freezing tips, and serving ideas galore
About the Author
CRYSTAL COOK and SANDY POLLOCK, the Casserole Queens, have been delivering casseroles in Austin, Texas, since 2006. New York Times bestselling authors, they are hosts of the Casserole Queens Web series on YouTube's HUNGRY channel, and they write a monthly column for Woman's Day. They have been featured on NBC's Today, QVC's In the Kitchen with David, Food Network's Throwdown! with Bobby Flay, and Bobby Flay Radio on Sirius XM.
Praise For The Casserole Queens Make-a-Meal Cookbook: Mix and Match 100 Casseroles, Salads, Sides, and Desserts…
"When I need ideas for potlucks or gatherings, I call on my go-to gals, the Casserole Queens! Whether it's gluten-free, vegetarian, or anything goes, their comforting one-pot dishes are sure to be a hit. But even better, Crystal and Sandy clearly get a lot of joy from sharing food with others—and they want you to have just as much fun, too."
—Lisa Fain, author of The Homesick Texan Cookbook
 
"Those sly, sassy Casserole Queens have once more moved casserole culture forward. Their mix-and-match recipes for delicious family recipes feature gluten-free (gluten-free corn dog casserole!), diabetic-friendly, and vegetarian options to make sure everyone at the table is included."
—Martha Hall Foose, author of Screen Doors and Sweet Tea
 
"The Casserole Queens have embarked on a mission that is not only getting us all back in the kitchen and cooking the food that Ma and Grandma used to make, but is also going a step further. They are moving away from our digitized, hectic, futuristic lifestyles and are preserving a style of cooking that is quickly going the way of homemade jams and pickles. They are champions of a cuisine that can truly be called American."
—Duff Goldman, owner of Charm City Cakes

or
Not Currently Available for Direct Purchase