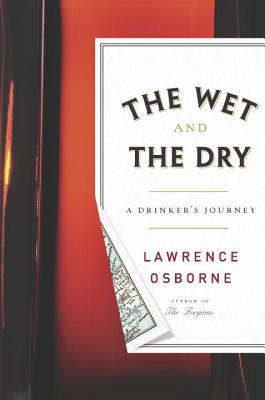 The Wet and the Dry (Hardcover)
A Drinker's Journey
Crown Publishing Group (NY), 9780770436889, 226pp.
Publication Date: July 23, 2013
Other Editions of This Title:
Paperback (7/22/2014)
* Individual store prices may vary.
Description
Selected as a Top Ten Book of the Year by Dwight Garner, New York Times

A "stylish and engaging…fearlessly honest account" (Financial Times) of man's love of drink, and an insightful meditation on the meaning of alcohol consumption across cultures worldwide
 
Drinking alcohol: a beloved tradition, a dangerous addiction, even "a sickness of the soul" (as once described by a group of young Muslim men in Bali). In his wide-ranging travels, Lawrence Osborne—a veritable connoisseur himself—has witnessed opposing views of alcohol across cultures worldwide, compelling him to wonder: is drinking alcohol a sign of civilization and sanity, or the very reverse? Where do societies and their treatment of alcohol fall on the spectrum between indulgence and restraint? 
 
These questions launch the author on an audacious journey, from the Middle East, where drinking is prohibited, to the West, where it is an important—yet perhaps very often a ruinous—part of everyday life. Beginning in the bar of a luxury hotel in Milan, Osborne then ventures to the Hezbollah-threatened vineyards of Lebanon; a landmark pub in London; the dangerous drinking dens on the Malaysian border; the only brewery in the alcohol-hostile country of Pakistan; and Oman, where he faces the absurd challenge of finding a bottle of champagne on New Year's Eve.  Amid his travels, Osborne unravels the stories of alcoholism in his own family, and reflects on ramifications of alcohol consumption in his own life. 
 
An immersing, controversial, and often irreverent travel narrative, The Wet and the Dry offers provocative, sometimes unsettling insights into the deeply embedded conflicts between East and West, and the surprising influence of drinking on the contemporary world today.
About the Author
A celebrated novelist and journalist, LAWRENCE OSBORNE is the author of six travel narratives and a recent novel, "The Forgiven." He has written for the "New York Times Magazine," the "Wall Street Journal Magazine, "the "New Yorker," "Forbes," "Harper's," and several other publications. He lives in New York City and Bangkok.
Praise For The Wet and the Dry: A Drinker's Journey…
"Instantly among the best nonfiction volumes about drinking that we have…Mr. Osborne comes across in The Wet and the Dry as a real human being indeed — a complicated man mixing complicated feelings into fizzy, adult, intoxicating prose." -New York Times

"In this entertaining travel essay/memoir, [Osborne] combines both of his loves with a combination of sparkling prose and insightful observations…Endlessly fascinating."- Chicago Tribune

"Mr. Osborne is a superb travel writer, one who, like Evelyn Waugh, can size up a locale at almost a glance. This intoxicating book has political as well as sensual overtones. It's about how East and West think about alcohol; quite often it's about one man's search for his 6:10 p.m. martini in some very unlikely locations."- Dwight Garner, New York Times

"A bracing, brilliant meditation on everything from the universal qualities that make a good bar to the mysteries of vodka…to the pagan worship of Dionysius, an influence still felt in the way we see wine… Relentlessly sharp-minded."—Boston Globe

"Delightfully idiosyncratic."—LA Times

"Entertaining…[Osborne] nimbly parses politics, religion, and the chaotic nature of history itself in relation to drink."—Men's Journal, a Best Books for Men 2013 selection

"Osborne is a master of the high style." -The Guardian

"Captivating...Stylish and engaging." -Financial Times

"Osborne elicits some profound and harrowing reflections...From Dubai to Beirut, Islamabad to Brooklyn, Osborne's meditations on fermentation and distillation induce a host of refreshing, taut, timeless unmoorings." -Publishers Weekly (starred review)

"A cosmopolitan and prodigious drinker conducts a tour to selected locales where alcohol flows easily and to others where such spirits are strictly forbidden…Rakish, rich and nicely served." —Kirkus 
 
or
Not Currently Available for Direct Purchase