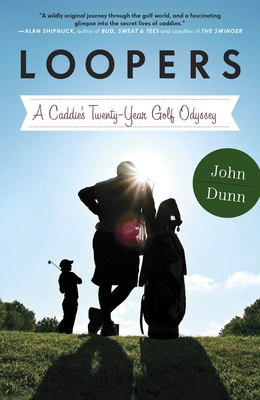 Loopers: A Caddie's Twenty-Year Golf Odyssey (Paperback)
A Caddie's Twenty-Year Golf Odyssey
Broadway Books, 9780770437206, 304pp.
Publication Date: May 13, 2014
Description
John Dunn never expected that his summer job as a caddie at the local course in Connecticut might turn into something more. The lifers who plied the loops were an ensemble of misfits and degenerates who made the caddie yard look more like a gambling hall than a country club. But Dunn came of age in those yards and on those courses, and the magnetism of the game and the lifestyle proved irresistible. One adventure after another kept him coming back summer after summer, until he found himself migrating with the seasons, looping at some of the most exquisite and exclusive golf locations in the world. Dunn crisscrossed the country on his own big loop, working inside the privet hedges while camping on the mountains, following the back roads and stumbling across unexpected moments of profound natural beauty, and embracing the freedom of what he calls the last vagabond existence in America, all while trying to decide whether to quit the loop and get a real job. Maybe next season...
About the Author
JOHN DUNN is a writer whose work has appeared in a number of magazines, including "The Golfer" and "Travel + Leisure Golf." For twenty years he worked as a caddy at golf courses around the world. His research for this book was collected over the years on courses and beaches and in bars all across the country and abroad.
Praise For Loopers: A Caddie's Twenty-Year Golf Odyssey…
Praise for John Dunn's Loopers
 
"Author John Dunn could have made his memoir of life on the links the literary equivalent of nine holes: Drop some A-list names, recall some Caddyshack-worthy shenanigans, then head to the clubhouse. Instead, he made a full round of his peripatetic tale, elegantly capturing not only the breathtaking views along the world's top courses but the inner landscape of the players irresistibly drawn to the game."
—American Way

"An engaging and surprisingly gritty approach to the sport's literature."
—Bookpage

"Will appeal to fans of the Caddyshack films and to those who revere the wisdom of the locker room."
—Kirkus Reviews

"Dunn found a vigorous and vital way of life which comes through clearly in his words. He caddies with no anticipation of wealth but at the same time it's clear he knows of the job's compensating values—walking through nature and playing golf courses, some of which are as beautiful as any place in the world."
—BunkerShot

"Loopers is a wildly original journey through the golf world, and a fascinating glimpse into the secret lives of caddies. John Dunn is the perfect tour guide—by turns droll and introspective, imbued with a reverence for the game and a heroic wanderlust that takes him to many of golf's sacred spots. Reading this wonderful book made me want to fall in love with golf again...and to hit the road, in search of the adventure and self-discovery that Dunn found." 
—Alan Shipnuck, author of Bud, Sweat & Tees and co-author of The Swinger

"John Dunn turns toting the golf bags of the rich into an evocative and often very funny meditation on class and purpose. The serendipity he prizes about caddying turns out, as he slides into middle age, to be doubtful compensation for a more conventional career. The mixed blessings of vagabondage, and Dunn's slow-motion struggle with his disapproving father, give his memoir its tense and mournful gravity."
—Tad Friend, author of Cheerful Money
 
"Is caddying a vocation or a permanent vacation? John Dunn has an amazing talent to get the reader to 'enter the writer's tent' and imagine you're right there with him in St. Andrews, at Bandon Dunes, at Shinnecock, at Olympic. It's a trip work taking."
—Mike Keiser, Owner, Bandon Dunes Golf Resort

Advertisement