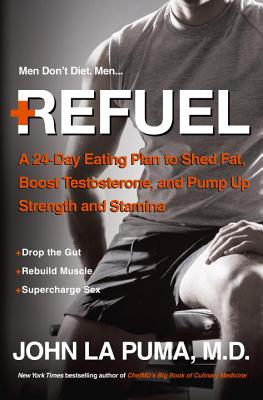 Refuel
A 24-Day Eating Plan to Shed Fat, Boost Testosterone, and Pump Up Strength and Stamina
Hardcover

* Individual store prices may vary.
Description
LOW T? THE SAFE AND NATURAL WAY TO BOOST IT  IN 24 DAYS. 
 
Throughout much of their lives, men have a weight advantage over women, whose bodies are naturally designed to hold more fat.  Fair or not, men's hormonal make-up, muscle mass, and unique metabolic profile make it easier for them to stay lean. But certain conditions can overturn that gift—the passage of time, the pressure of work and others, the wrong 'fuel'—and lead men to a hormonal state that more closely resembles, well, women. 
 
If you have a beer gut, fatty pecs and are 'softer' then you used to be, especially where it counts the most, keep reading.  Help is in your hands.  Designed to restore optimal testosterone levels, eliminate dangerous visceral fat and improve sexual performance, REFUEL™ gives you the rules, skills, and step-by-step plan needed to optimize the male biochemical blueprint, including:
 
-- How to boost T-levels and supercharge sex naturally, without hormones or drugs
--Gender-specific nutritional engineering—or why a generic weight-loss approach just doesn't work
--No sweat tactics to jumpstart your metabolism, build strength and maximize energy, naturally 
--The 5 commandments for getting it up and dropping the gut
--How to man a kitchen—with 15 great tasting dishes anyone can and should make
--How to engage and include the women in your life as partners in your program
 
With this book, New York Times bestselling author Dr. John La Puma reveals the breakthrough 24 day fat-loss plan specifically engineered for the male brain and body that is dramatically changing lives. Reboot, rebuild: REFUEL™.
 
 

Praise For Refuel: A 24-Day Eating Plan to Shed Fat, Boost Testosterone, and Pump Up Strength and Stamina…
"Refuel is the book we women have been waiting for to give to the men in our lives! With this information, men can regain the stamina and health they once took for granted!" —Christiane Northrup, M.D., and bestselling author of Women's Bodies, Women's Wisdom and The Wisdom of Menopause
 
"Let Dr. La Puma be your personal doctor. Few doctors really get it--but with REFUEL, John helps you master a few simple ways to exercise that will burn the most calories in the least time. Love the high intensity training, clean fuel and lifestyle!" – Jillian Michaels, New York Times bestselling author of Slim For Life and Master Your Metabolism 

"Peppered with clever, pithy 'man memos'… La Puma's diet is practical and user-friendly." – Publishers Weekly
 
"A practical guide for men...with a lot of good recipes for health."  -- Eric J. Topol, M.D., Cardiologist, Scripps Clinic; Author, Creative Destruction of Medicine

"Dr. John La Puma has a deep and comprehensive understanding of what makes people tick: in particular, the drivers that cause men to develop unsustainable lifestyles. Here he provides practical answers to what had seemed impossibly complex problems using warmth, humour, and refreshing simplicity." -- Glenn Riseley, Founder & President, Global Corporate Challenge 

"Finally! A great book for a man who wants to eat to optimize his body.  Written with the skills of a great physician and chef, Dr. La Puma's REFUEL is packed and practical. This book is a game-changer." --Alan Greene, M.D., Author, health pioneer, and Founder Dr. Greene.com
Harmony, 9780770437466, 304pp.
Publication Date: December 31, 2013
About the Author
JOHN LA PUMA, M.D., is a board-certified specialist in internal medicine, co-founder of the popular ChefMD® video series and nutrition expert for the Turner Wellness Network.  His recent New York Times Op-Ed, Don't Ask Your Doctor About 'Low T,' was one of their top e-mailed stories when it published. He is also a New York Times bestselling author of ChefMD's Big Book of Culinary Medicine, and the coauthor of the bestselling Cooking the RealAge Way and The RealAge Diet. He has hosted two PBS Specials. The first physician to teach cooking and nutrition in a U.S. medical school, he has been repeatedly named "One of America's Top Physicians" by the Consumers' Research Council, and has been called a "Secret Weapon" by the Wall Street Journal. Get free book bonuses at his award-winning website, www.refuelmen.com.
or
Not Currently Available for Direct Purchase