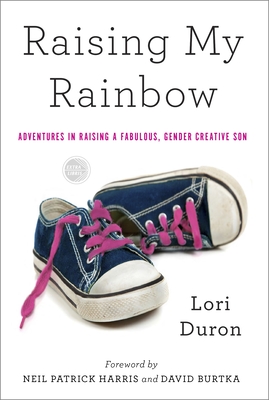 Raising My Rainbow (Paperback)
Adventures in Raising a Fabulous, Gender Creative Son
Broadway Books, 9780770437725, 288pp.
Publication Date: September 3, 2013
Other Editions of This Title:
MP3 CD (6/14/2016)
* Individual store prices may vary.
Description
Raising My Rainbow is Lori Duron's frank, heartfelt, and brutally funny account of her and her family's adventures of distress and happiness raising a gender-creative son.

Whereas her older son, Chase, is a Lego-loving, sports-playing boy's boy, Lori's younger son, C.J., would much rather twirl around in a pink sparkly tutu, with a Disney Princess in each hand while singing Lady Gaga's "Paparazzi."

C.J. is gender variant or gender nonconforming, whichever you prefer. Whatever the term, Lori has a boy who likes girl stuff—really likes girl stuff. He floats on the gender-variation spectrum from super-macho-masculine on the left all the way to super-girly-feminine on the right. He's not all pink and not all blue. He's a muddled mess or a rainbow creation. Lori and her family choose to see the rainbow.

Written in Lori's uniquely witty and warm voice and launched by her incredibly popular blog of the same name, Raising My Rainbow is the unforgettable story of her wonderful family as they navigate the often challenging but never dull privilege of raising a slightly effeminate, possibly gay, totally fabulous son.

Now with Extra Libris material, including a reader's guide and bonus content
About the Author
Lori Duron is the author of Raising My Rainbow: Adventures in Raising a Fabulous, Gender Creative Son. The first parenting memoir to chronicle the journey of raising a gender nonconforming child, the book is based on her popular blog of the same name.  RaisingMyRainbow.com has more than two million readers in 173 countries, including gender studies students and faculty at more than 50 college and universities in the U.S., Canada and the U.K. Duron and her blog have twice been named one of BlogHer's Voices of the Year; one of Ignite Social Media's "100 Women Bloggers You Should be Reading;" one of Circle of Moms "Top 25 SoCal Moms;" and one of Parents Magazine's blogs that are "Most Likely To Change The World." Publishers Weekly recently named Raising My Rainbow one of the Best Books of 2013.

Duron and her blog have earned the attention of a variety of media outlets including: The TODAY Show, CNN, Time, Anderson Cooper, People, BBC, MSNBC, The New York Times, The Huffington Post, Psychology Today, Fox News, Out, The Advocate, Newsweek, and The Atlantic. Duron lives with her husband and two children in a happy, messy home in Orange County, California.
Praise For Raising My Rainbow: Adventures in Raising a Fabulous, Gender Creative Son…
Praise for Lori Duron's Raising My Rainbow
 
"Heartwarming, though wrenching…what makes Raising My Rainbow fresh and enjoyable is Duron's utter lack of pretension."
—New York Times Book Review

"A powerful book at the right time."
 —Andy Cohen, author of Most Talkative

"Lori Duron, a writer of extraordinary generosity, has given us a guide to parenthood both gentle and revolutionary.   Raising My Rainbow is a valuable resource not only for parents of gender-nonconforming children, but for readers everywhere who seek the courage to stand up for the ones they love.  Fierce, wise, and illuminating." 
—Jennifer Finney Boylan, author of She's Not There and Stuck in the Middle with You.  
 
"Because of Lori's courage, there is now an answer when searching how to parent a child who is gender fluid, gender non-conforming, transgender, gay or whatever label you use.  This book is a wonderfully authentic read that will bring depth, joy and understanding to parents, extended families and anyone seeking to learn how parents can and do love gender creative children.  To acceptance!"
—Cheryl Kilodavis, author of My Princess Boy
 
"[S]mart and witty...first-of-its kind...a frank, funny, feminist book."
—The Advocate

"[A]n optimistic and delightful memoir… Duron's call for compassion should be heeded by educators, caregivers, and neighbors—an open heart, a desire to listen and learn, and a willingness to accommodate go a long way in doing well by someone who differs from your expectations."
 —Publishers Weekly, starred review
 
"A heartfelt examination of raising a boy who wants to be a girl."
—Kirkus

"It takes a village to raise a child, and it takes a gender creative parent to create a gender creative child.  Lori Duron is just one of those parents, and Raising My Rainbow is a must-read for the entire village.  Beautifully written, humorous, and deeply open and self-reflective, this book, the first of its kind, gives us a window into a mother's joys, pain, and courage raising a child who goes against the binary gender grain of our society. This is not only an outstanding book, it is a big step forward in making it a better world for all of us.
 —Diane Ehrensaft, Author of Gender Born, Gender Made
 
"First drawn to Lori's work as an educator and LGBT activist, it was my role as a father that provided the most poignant critical lens for Raising My Rainbow. While nobody has a blueprint for parenting, Lori's compassionate, insightful, and yes, humorous take of raising a "gender creative" child should be required reading for anyone bringing up or working with children."
 —Frank Bua, author of Lost and Found, and Board Member, Family Equality Council

"I fell in love with this. Lori Duron has written a very important book, and as an author she is extremely generous in sharing the story of her family and in particular her own journey which made her realize that her job regarding her son is to 'not change him but to love him'. Duron and her husband and oldest son beautifully rise to every challenge C.J.'s gender creativity presents to them. As a reader, I felt privileged to witness their journey."
 —Lesléa Newman, author The Boy Who Cried Fabulous, Heather Has Two Mommies, and October Mourning
 
"Lori Duron has painted an exquisite picture of the complex journey that is raising a gender diverse child. In chronicling her family's transformation from confusion, to fear, to acceptance and ultimately fierce pride, she has provided an unwavering celebration of her child's gender self-determination. Not just a book for families with gender nonconforming children, Raising My Rainbow is wonderful resource for all parents committed to honoring children for who they are."
 —Joel Baum, Director, Education and Training, Gender Spectrum TM
 
"Laugh-out-loud funny, tug-at-the-heartstrings moving, and thoroughly thought provoking, Raising My Rainbow is a must-read for anyone who has ever worried that their child—or a child that they know—might be perceived as 'different from' or 'other than.'"
 —Jody M. Huckaby, Executive Director, PFLAG National