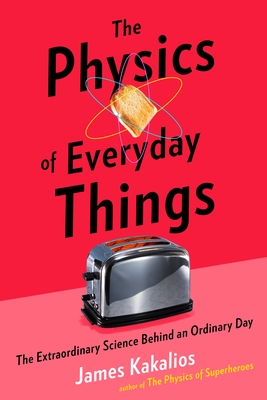 The Physics of Everyday Things
The Extraordinary Science Behind an Ordinary Day
Hardcover

* Individual store prices may vary.
Other Editions of This Title:
Digital Audiobook (5/15/2017)
Paperback (5/15/2018)
Description
Physics professor, bestselling author, and dynamic storyteller James Kakalios reveals the mind-bending science behind the seemingly basic things that keep our daily lives running, from our smart phones and digital "clouds" to x-ray machines and hybrid vehicles.
 
Most of us are clueless when it comes to the physics that makes our modern world so convenient. What's the simple science behind motion sensors, touch screens, and toasters? How do we glide through tolls using an E-Z Pass, or find our way to new places using GPS?  In The Physics of Everyday Things, James Kakalios takes us on an amazing journey into the subatomic marvels that underlie so much of what we use and take for granted.
 
Breaking down the world of things into a single day, Kakalios engages our curiosity about how our refrigerators keep food cool, how a plane manages to remain airborne, and how our wrist fitness monitors keep track of our steps. Each explanation is coupled with a story revealing the interplay of the astonishing invisible forces that surround us. Through this "narrative physics," The Physics of Everyday Things demonstrates that—far from the abstractions conjured by terms like the Higgs Boson, black holes, and gravity waves—sophisticated science is also quite practical. With his signature clarity and inventiveness, Kakalios ignites our imaginations and enthralls us with the principles that make up our lives. 
Praise For The Physics of Everyday Things: The Extraordinary Science Behind an Ordinary Day…
"[A] vivid compendium of digestible science lessons…The pages constantly generate a pleasurable 'Aha!' at the connections the author reveals." –Wall Street Journal

"Forget what people say, learning is cool. And The Physics of Everyday Things will have plenty to teach you... When you're done, you can wow your friends the next time you meet them for drinks with your knowledge of how credit cards work." –Stuff.tv

"Kakalios does a commendable job of recognizing the ways in which physics manifests itself in seemingly mundane objects and injects his own enthusiasm for the subject into his writing. And even when he addresses subject matter that appears to be well-trodden territory, he is able to bring a fresh perspective. . . . The Physics of Everyday Things is a welcome addition to any bookshelf: the engaging writing style is perfect for the casual physics enthusiast and the examples discussed will prove valuable to those who discuss physics with non-specialists." –Physics World

"Readers will enjoy lucid explanations of dazzling yet quotidian technology, and those who remember a bit of high school–level science may appreciate them even more." –Publishers Weekly

"From start to finish, this is a fun and comprehensive introduction to many of the forces that govern how we interact with each other and the world around us...Once again, Kakalios makes physics relatable, this time demonstrating how profoundly its principles enable our way of life." –Kirkus Reviews 

"Sure to awaken in readers a new awareness of science operating beneath familiar surfaces, this analysis also opens a historical perspective on the inventions that have reshaped the world—once dependent on little-understood steam engines, now exploiting ingeniously engineered semiconductors. A fascinating inquiry exposing hidden science." –Booklist

"The clever format, following a person through a typical day (which includes air travel, hotel stays, and a business presentation), brings order to the mammoth topic of physics and makes it accessible to readers unfamiliar with how gravity affects ordinary objects....A great book for readers who want to learn more about the science hidden beneath the surface of their lives."
–Library Journal

"Jim Kakalios is recognized as the world's expert on the physics of superheroes, but apparently his talents also extend to the real world. We shouldn't be surprised: physics is at heart a search for basic underlying principles, whether in comic-book universes or our everyday lives. You won't find a better, more enjoyable tour guide to how the laws of physics explain the world all around us." –Sean Carroll, physicist at Caltech and author of The Big Picture
 
"Think how much richer your life would be if you understood how the beloved devices that govern your daily life actually worked.  You might be surprised to learn that even the most common ones–like your smartphone and GPS–depend on the wonders of modern physics, such as quantum mechanics and general relativity.  A new world awaits you in this accessible and charming volume by James Kakalios, who takes you through an ordinary day that becomes extraordinary through his clear examples." –Lawrence M. Krauss, Director of the Origins Project and author of A Universe from Nothing and The Greatest Story Ever Told—So Far
Crown, 9780770437732, 256pp.
Publication Date: May 16, 2017
About the Author
 JAMES KAKALIOS is the Taylor Distinguished Professor of Physics at the University of Minnesota and the author of the bestselling The Physics of Superheroes.