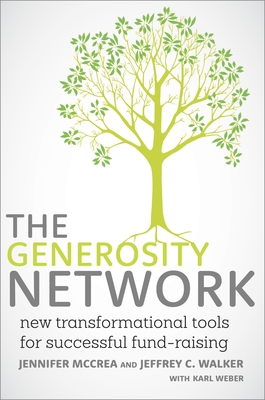 The Generosity Network (Hardcover)
New Transformational Tools for Successful Fund-Raising
Deepak Chopra, 9780770437794, 304pp.
Publication Date: September 24, 2013
* Individual store prices may vary.
Description
The Generosity Network is the essential guide to the art of activating resources of every kind behind any worthy cause. Philanthropist Jeff Walker and fund-raising expert Jennifer McCrea offer a fresh new perspective that can make the toughest challenges of nonprofit management and development less stressful, more rewarding—and even fun.    
            Walker and McCrea show how traditional pre-scripted, money-centered, goal-oriented fund-raising techniques lead to anxiety and failure, while open-spirited, curiosity-driven, person-to-person connections lead to discovery, growth—and often amazing results. Through engrossing personal stories, a wealth of innovative suggestions, and inspiring examples, they show nonprofit leaders how to build a community of engaged partners who share a common passion and are eager to provide the resources needed to change the world—not just money, but also time, talents, personal networks, creative thinking, public support, and all the other forms of social capital that often seem scanty yet are really abundant, waiting to be uncovered and mobilized. 
            Highly practical, motivating, and thought provoking, The Generosity Network is designed to energize and empower nonprofit leaders, managers, donors, board members, and other supporters. Whether you help run a multimillion-dollar global nonprofit or raise funds for a local scout troop, PTA, or other community organization, you'll learn new approaches that will make your work more successful and enjoyable than ever.
About the Author
Jeff Walker, former chairman of the global private equity fund CCMP Capital, serves on the boards of New Profit, Berklee College of Music, the Morgan Library, the Millennium Development Goals Health Alliance, and other nonprofits. He has been an executive-in-residence at Harvard Business School and a lecturer at Harvard Kennedy School for nonprofit leadership.
 
Jennifer McCrea, a twenty-five-year fund-raising veteran, is a Senior Research Fellow at the Hauser Center for Nonprofit Organizations at Harvard University, where she leads the course in exponential fund-raising. She has worked with a diverse group of nonprofit organizations, including Millennium Promise, Acumen Fund, DonorsChoose.org, Grameen America, Teach for America, and many others. 
           
Karl Weber is a writer and editor, specializing in topics from business and social issues.
Praise For The Generosity Network: New Transformational Tools for Successful Fund-Raising…
"This is a brave and important book, a book that dares to turn fund-raising from 'us and them' into 'us.' I hope everyone who cares about a worthy cause will read these ideas and put them into action."
Seth Godin
Author of The Icarus Deception


"For everyone who seeks true partnership with others, The Generosity Network has lessons on the practice of relationship, dialogue, and the deep connections that energize people and communities to turn visions and passion into reality and results."
 
Scott Kriens 
Chairman, Juniper Networks 
Director, 1440 Foundation
 
 
"For decades, Jennifer McCrea and Jeff Walker have been guiding and advising the leaders of many of today's most effective nonprofit organizations (including mine), in fields ranging from poverty relief and education reform to healthcare, the arts, and the environment—with truly impressive results.  What a blessing that they're now making that same wealth of insight available to all of us through The Generosity Network."
 
Quincy Jones
Musician, composer, producer, arranger, conductor
 
 
 "No one knows the art of fundraising, from both sides of the table, like Jennifer McCrea and Jeff Walker.  In a time that demands new thinking and innovative approaches to fundraising, I'm delighted they've now made their unparalleled wisdom and call to action available in the form of this wonderful, invaluable book that promises to transform what it means to be a nonprofit leader and partner."

Teri Schwartz
Dean, UCLA School of Theater, Film and Television
 
 
"Like strong and caring friends, Jennifer and Jeffrey encourage us to look inside ourselves, ask the tough, deep questions that reveal our limiting thoughts, beliefs and habits and then give us wise and practical counsel on how to change course. Be courageous enough to trod this internal trail and you will unleash your own potential, transform your organization and change the world."
 
U.S. Congressman Timothy Ryan
 
 
"Of the many important insights this book brings to fund-raising, the most important is that networks undergird all social undertakings, and along networks flow talent, connections, wisdom – and funds.  This book is about successful organizations, and the different forms of success, including fund-raising, reinforce one another."
 
Teresa A. Sullivan
President, University of Virginia
 
 
"In today's troubled world, the work of nonprofit organizations is more urgent than ever.  That's why the ideas in The Generosity Network are so important.  Whether you mission is to save the planet—or just make your little corner of it a whole lot better—you can't afford to ignore this marvelous new book."
 
Goldie Hawn
Academy Award winning actress and producer,
Founder of the Hawn Foundation
 
 
"Jennifer McCrea is a force of nature and one of the few people I know that actually enjoys asking people for money. She and Jeff Walker have provided an incredibly rich and valuable resource for those out there struggling to raise money for important causes." 
 
Scott Harrison
Founder and CEO, Charity Water
 
 
"Along with Sex and Religion, Money is one of the Great Unmentionables. It makes people nervous and brings up visions of power, property, and ownership, and all the crud around it makes raising money especially difficult. This book teaches us how to lighten up, to peel away all that scuzz from both ourselves and the job in hand.  Connecting people for a higher goal turns a fundraiser into a dating agency for world changers.  It's wonderful to see, in a world full of horrors, that compassion and generosity have found such effective allies as Jennifer and Jeff . . . !"
 
Peter Gabriel
Musician
 
 
"Jennifer and Jeff have captured the great joy of fundraising.  Their book will prove to be inspirational to many volunteers and staff."
 
Suzanne Helm, Vice President of Development, Council on Foreign Relations
 
 
"No one knows the art of fundraising, from both sides of the table, like Jennifer McCrea and Jeff Walker.  They have personally guided me through this process and this book only adds to the wealth of knowledge they have shared with me over the years. I'm delighted they've now made their unparalleled wisdom available in the form of this wonderful, invaluable book."
 
Barbara Bush, CEO, Global Health Corps
 
 
"So heartened to see these true fundraising sages sharing their distinctive approaches with a wider audience. Three elements make The Generosity Network remarkable: the core partnership approach (we've all heard it, but they embody it); the importance of genuine self-reflection regarding your own attitudes about money, wealth, and giving before soliciting others (which nobody talks about and is such a fundamental and enlightened starting place); and the spiritual element to fundraising (which is central to all real giving).  I'm not only a better fundraiser, but a far better person from having learned from them." 
 
Laurence Jahns, Senior VP Advancement, Robin Hood Foundation
 
 
"Jennifer McCrea and Jeff Walker have written a seminal new chapter in the history of the fundraising profession. The Generosity Network exponentially broadens the dynamic range of the profession. It will make fundraisers weep with ecstasy at being understood. It will transform the entire way those looking to hire them think about what they should be looking for. It elevates the profession from the province of begging to realms of joy and artistry.  Why should tech entrepreneurs be the ones having all the fun? Is it possible that raising the funds to end malaria or cure breast cancer could be every bit as fulfilling as building the first electric car company? The possibility has never before been considered. It has now."
 
Dan Pallotta, author, Uncharitable