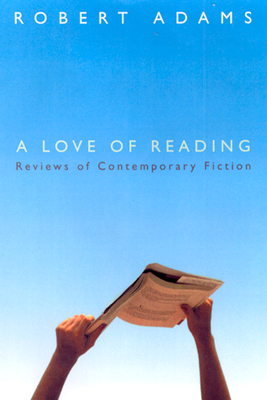 A Love of Reading: Reviews of Contemporary Fiction (Paperback)
Reviews of Contemporary Fiction
McClelland & Stewart, 9780771006609, 320pp.
Publication Date: September 11, 2002
* Individual store prices may vary.
or
Not Currently Available for Direct Purchase
Description
Every year, Robert Adams prepares a series of five reviews of contemporary novels, to be delivered alone on a theatre stage to sold-out audiences in Toronto and Montreal. In "A Love of Reading" Adams has now gathered 18 of his most brilliant reviews, from "Jack Maggs" by Peter Carey and "The Poisonwood Bible" by Barbara Kingsolver, to "A Fine Balance" by Rohinton Mistry and "Barney's Version" by Mordecai Richler. In them he skillfully interweaves a nimble and entertaining discussion of plot, theme, and characterization with fascinating historical, biographical, and literary context. He is repeatedly drawn to the spectacle of less-than-perfect humans making their way in a hostile world, and as a result a review by Robert Adams is almost always a hugely satisfying mix of rich pathos and abundant humour.
Famously, Adams reads a book a day, from which he selects only those novels that are truly extraordinary, that have made him see some part of the world or some aspect of the human condition in a new light - because for Adams, the best books always take the reader on a journey, with a destination very distant from the point of departure. It should be not only a journey of discovery - an exploration of the author's vision - but also of risk. By matching one's own vision to that of the author, says Adams, the reader enters an exciting negotiation to produce a new vision of his own. This joint enterprise between reader and writer, the shared risk and the wonder of discovery, is the foundation of "A Love of Reading."
- For the last six years, Robert Adams has presented an annual series of book reviews to sold out audiences. Eighty per cent
of Adams' 3,000 subscribers in Toronto and Montreal renew for the following season
- This book is a selection of modern classics from a discriminating and entertaining guide
- Perfect for reading groups
-" Quill & Quire," noting the jump in sales of any book reviewed by Adams, has called the phenomenon "The Adams Effect"
"From the Hardcover edition.
About the Author
Robert Adams was born in South Wales. In London, he studied at the London School of Economics before becoming a teacher. In 1964 he came to Canada to continue his teaching career in several Montreal high schools. He was a lecturer at Concordia University and from 1972 to his retirement in 1997 taught at the College de Bois-de-Boulogne, where he became Chair of the English department. He is the author of "The Life and Work of Alexander Bercovitch, Artist" (1988), which was shortlisted for the QSPELL Award. "From the Hardcover edition."
Praise For A Love of Reading: Reviews of Contemporary Fiction…
"A bibliophile's dream .… I read these reviews with as much pleasure as I read the novels that gave rise to them. … This collection will remind the unapologetic reader that reading is more than a gift; it is an act of transcendence."
–Aritha van Herk, Calgary Herald

"What if you haven't read the novels …? Then I envy you. I greatly enjoyed Adams's discussion of the books I know. But I adored even more his lectures on the books I haven't got to yet. … Adams's lectures make you itch to read."
– Suanne Kelman, Globe and Mail

"[Adams] has single-handedly defeated the criteri, literature's bloodless high priests.… The passion … rises off the pages. Readers come away resolved to read every book he mentions."
–Ottawa Citizen

"A taste of the critic's wares.… Adams's insights sparkle with a wit and a humanity rare among his kind."
–Brett Grainger, Elm Street

"You can hear Adams as you read. He writes as he speaks – clearly, wittily, passionately. … Adams gives fullness and resonance to his readings. He reads the past – characters, authors, old books – into the present to the enrichment of both."
–J.S. Porter, Hamilton Spectator
Advertisement