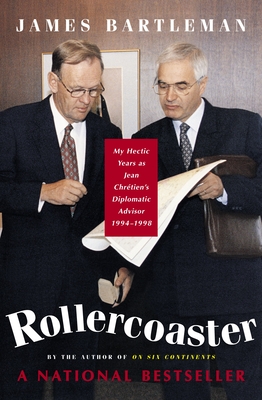 Rollercoaster: My Hectic Years as Jean Chretien's Diplomatic Advisor, 1994-1998 (Paperback)
My Hectic Years as Jean Chretien's Diplomatic Advisor, 1994-1998
Douglas Gibson, 9780771010958, 358pp.
Publication Date: February 27, 2007
* Individual store prices may vary.
or
Not Currently Available for Direct Purchase
Description
For four years, James Bartleman mixed with all the biggest names - Clinton, Blair, Yeltsin, Mitterrand, Castro, Kohl, Chirac, and on and on, as Chretien's Henry Kissinger figure.
He was involved in deadly serious crisis management, accompanying Chretien to all the world's hot spots - dodging bullets in Sarajevo, and trying to avoid war in the Spanish trawler incident. Not to mention dealing with Premier Li of China on an official visit encountering protestors in Montreal and shouting, "I am departing immediately. Never have I and my country been so humiliated."
Which leader at the G7 Summit in Halifax passed out drunk in the hotel elevator? What did Jean Chretien do to set White House aides threatening, "the next time there's a referendum, we will support the separatists"? And why did Fidel Castro grab our author, shaking him and snarling, "I hope you are satisfied, Bartleman"? It's all in this lively book.
Every major world crisis of these years is represented here, and every region of the world. You'll be amazed at how widely Chretien and Bartleman travelled and how much top-level action they experienced. Canadian foreign policy has never seemed so exciting. Or so funny (as when the angry Japanese prime minister's Ottawa visit was marred by a health problem officially described as "soft poo"). A candid, witty, eye-opening book about foreign affairs at the top.
"From the Hardcover edition.
About the Author
James K. Bartleman is the author of "On Six Continents" and the new memoir Raisin Wine. He is the Lieutenant-Governor of Ontario.
Praise For Rollercoaster: My Hectic Years as Jean Chretien's Diplomatic Advisor, 1994-1998…
"Candid and engaging."
— Globe and Mail

"A real treat."
— Winnipeg Free Press

"The reader gets a shotgun seat on a tumultuous ride."
— Ottawa Hill Times
Advertisement