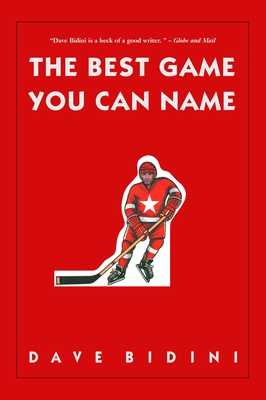 The Best Game You Can Name (Paperback)
McClelland & Stewart, 9780771014604, 312pp.
Publication Date: September 5, 2006
* Individual store prices may vary.
Description
Bidini returns to the game he loves best

In 2004, Dave Bidini laced on his skates and slid onto the ice of Toronto's McCormick Arena to play defence with the Morningstars in the E! Cup tourney. While thrashing around the ice, swiping at the puck and his opponents, Bidini got to thinking about how others see the game. Afterward, he set off to talk to former professional players about their experiences of hockey. The result is vintage Bidini — an exuberant, evocative, highly personal, and vividly coloured account of his and his team's exploits, interwoven with the voices of such hockey heroes as Frank Mahovlich, Yvan Cournoyer, John Brophy, Steve Larmer, and Ryan Walter.

All aspects of the game are up for grabs in The Best Game You Can Name — the sweetest goals, the worst fights, the trades, the off-ice perks and the on-ice rivalries, not to mention the rotten pranks. Bidini and the former players offer sometimes startling observations about the fans, coaches, owners, other players, and the huge rush of being on the ice, stick in hand, giving everything you have to the best game you can name.
About the Author
Author and musician Dave Bidini is the only person to have been nominated for a Gemini, Genie and Juno as well CBC's Canada Reads. A founding member of Rheostatics, he has written 10 books, including On a Cold Road, Tropic of Hockey, Around the World in 57 1/2 Gigs, and Home and Away. He has made two Gemini Award-nominated documentaries and his play, the Five Hole Stories, was staged by One Yellow Rabbit Performance Company, touring the country in 2008. His third book, Baseballissimo, is being developed for the screen by Jay Baruchel, and, in 2010, he won his third National Magazine Award, for "Travels in Narnia." He writes a weekly column for the Saturday Post and, in 2011, he published his latest book, Writing Gordon Lightfoot. 
Praise For The Best Game You Can Name…
"I could read Dave Bidini all day. And I have. He not only finds the music in hockey but somehow does the reverse. The result is this remarkable book. It's full of checks, drugs and rock & roll, at least if you consider a giant, skating pint of Guinness to be a drug. And I certainly do."
— Steve Rushin of Sports Illustrated

"Bidini is a terrific writer — funny, clever, passionate."
—Toronto Sun

"We want to be Dave Bidini when we grow up."
—Toronto Star

"Bidini's books give sports and travel writing a charge. . . . He's hilarious . . . whip-smart."
—Georgia Straight

"[Bidini is] witty, articulate, modest, and passionate — really passionate — about hockey."
—Montreal Gazette
or
Not Currently Available for Direct Purchase