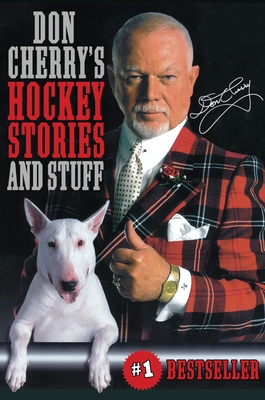 Don Cherry's Hockey Stories and Stuff (Paperback)
McClelland & Stewart, 9780771019562, 289pp.
Publication Date: October 27, 2009
Description
#1 National Bestseller
Don Cherry has been named a National Hockey League Coach of the Year with a winning percentage of over .600 and also received Coach of the Year honours in the American Hockey League. His comments on "Hockey Night in Canada"'s "Coach's Corner" routinely make headlines as they entertain, educate, and often upset some fans throughout North America. He may be controversial, but no one can deny the popularity he enjoys; popularity that was reflected in his top 10 ranking in the competition to determine "The Greatest Canadian."
Now from Grapes himself comes the book that hockey fans of all ages have been waiting for. Written with veteran sports journalist Al Strachan, here are Don Cherry's favourite stories from his career in hockey. And you can imagine the stories he has to tell.
"From the Hardcover edition.
About the Author
Twenty-five years into Don Cherry's hockey career, a chance appearance on "Hockey Night in Canada" impressed CBC officials enough for them to create a platform for the provocative ex-player and coach, "Coach's Corner." And the rest is history. Don Cherry's success extends to a line of popular DVDs, a chain of restaurants, and a syndicated radio show. In addition to these ventures he has spent the past few years raising funds for Rose Cherry's Home for Kids, a hospice for terminally ill children named after his beloved late wife, who died of cancer in June 1997. Don Cherry has passionately campaigned for the Milton, Ontario, hospice both on and off the air.

Al Strachan, a former columnist with the "Toronto Sun," "The Globe and Mail" and "The Montreal Gazette," regularly appears on "Hockey Night in Canada" and "The Score." He can be heard on Sirius Radio. Strachan has been writing about hockey and hanging out with NHL players, coaches, general managers, and owners for thirty-five years. He lives in Toronto and St. Andrews, New Brunswick. "From the Hardcover edition."
Praise For Don Cherry's Hockey Stories and Stuff…
"Never one to mix words, [Don] Cherry provides an analysis that transcends the reporting found in printed dailies, websites, and typical television broadcasts. That is what he is most often criticized for: not being like everyone else. Cherry provides poignant analysis about the game of hockey that escapes most other commentators. He endeavours to elucidate the small moments within a game that may appear inconsequential, but are integral to the outcome: a failure to clear the zone, a player shying away from a check, a poor line change. This is where Cherry is most valuable as a commentator. As a former coach, one who found great success, he is able to give viewers insights unlike anyone else."
—Ian Smart, 411mania.com

"Don Cherry in print sounds just like Don Cherry over the air…. If you like Cherry, you'll like this."
— Toronto Star
Advertisement