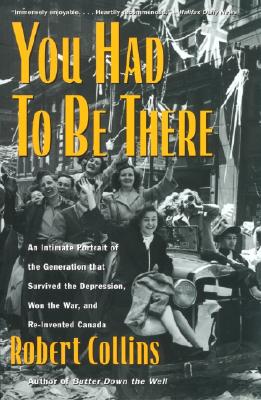 You Had to Be There: An Intimate Portrait of the Generation That Survived the Depression, Won the War, and Re-Invented Canada (Paperback)
An Intimate Portrait of the Generation That Survived the Depression, Won the War, and Re-Invented Canada
McClelland & Stewart, 9780771022562, 320pp.
Publication Date: October 7, 1999
* Individual store prices may vary.
or
Not Currently Available for Direct Purchase
Description
They gained their maturity in an age of monumental and unprecedented change from horse-and-buggy, Model TFord, and crank telephone, to moonwalks, space shuttles, and the Internet. They are better educated, more affluent, more vigorous, and longer-lived than any generation before them, yet obstinately cling to a forthright simplicity no generation is likely to regain. They are proudly old fashioned in their outlook, hardworking, and frugal in their ways. They are the last enthusiastic patriots, the last to accept authority with respect. They are the last generation to have reached adulthood without television, credit cards, computers, or the Pill. Their younger critics may call them old fogies; Robert Collins calls them Generation M, for
mature
.
In
You Had to Be There
, Robert Collins gives us the entire history of this extraordinary and hugely influential generation. Through this fascinating story he weaves the voices of Canadians from across the country, who speak with humour, regret, and passion about the hardships and triumphs of their lives and about the widening gap between themselves and the rest of Canada.
Generation gaps are as old as humankind, but rarely has there been as much misunderstanding and veiled animosity as there is between young and old today. Robert Collins accounts for the prejudices, pokes fun at the rivalries, and, with humour and sympathy, invites younger Canadians to re-examine their parents or grandparents lives and consider, maybe for the first time, the true proportion of their legacy.
From the Hardcover edition.
About the Author
Robert Collins, grew up in rural Saskatchewan during the Depression in conditions described in his renowned best-seller Butter Down the Well. After serving in Europe with the RCAF during the war (an experience described in The Long and the Short and the Tall), he returned to Canada to attend university and help produce the baby boom generation. Later, as a writer for Maclean s, the Star Weekly, and Toronto Life, he chronicled the goings-on in the suburbia of the 1950s and the upheaval of the turbulent 1960s. Subsequently, he travelled the country writing major articles for Reader s Digest. Collins, who lives in Toronto, now concentrates on books. This is his fourteenth. From the Hardcover edition."
Praise For You Had to Be There: An Intimate Portrait of the Generation That Survived the Depression, Won the War, and Re-Invented Canada…
"In a wonderfully evocative portrait of the Depression generation, Robert Collins has captured the sweet innocence and defiant pride of Canadians who grew up in the Dirty Thirties, won the war, and spawned post-war prosperity and the baby boomers. It's a joyous read."
–Knowlton Nash

"Bears the mark of a veteran journalist."
–Globe and Mail

"Evoking a thousand memories, Robert Collins has woven a rich and vari-coloured tapestry of the poignant and courageous lives of many who were there. For those who were not, these stories will perhaps bring appreciation and understanding of the generation and the time that was."
–Betty Kennedy

"Robert Collins has helped make these people, who gave so much, more permament in Canada's collective memory. For them and for him I'm grateful."
–Financial Post

"Through moving interviews with people across Canada, [Collins] develops an overview of a generation."
–Kitchener-Waterloo Record

"This is Canadian history in an accessible and entertaining package."
–Saskatoon Star-Phoenix

"Immensely enjoyable.…Heartily recommended."
–Halifax Daily News
Advertisement