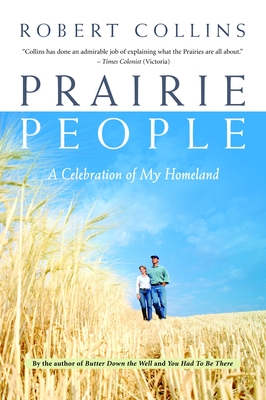 Prairie People: A Celebration of My Homeland (Paperback)
A Celebration of My Homeland
McClelland & Stewart, 9780771022586, 360pp.
Publication Date: October 5, 2004
* Individual store prices may vary.
or
Not Currently Available for Direct Purchase
Description
An intimate look at the people of the prairies in Manitoba, Saskatchewan, and Alberta - who they are, how they live, what makes them a breed apart
The prairies are Robert Collins's spiritual home. He was born and raised on a Saskatchewan farm, but spent most of his adult life living elsewhere. Now he returns to his homeland to pay homage to the special character of the people who live in this unique region of Canada.
"Prairie People" is an absorbing combination of stories, anecdotes, and touches of history told in the voices of ordinary people and linked by the author's own narrative and memories. It explores the characteristics that define these people to themselves and to the rest of Canada. Prairie people are clearly not all alike: city and town dwellers differ from farmers, farmers from ranchers, ranchers and cowboys from oilmen. But many of the stereotypes are true. They are defiantly pessimistic. They believe they are tougher than everybody else. They are uncommonly independent and self-reliant.
In this sympathetic yet realistic portrait, Collins looks at where the original settlers of the prairies came from. He describes how nature shaped them, and how hard work through good times and bad toughened them. He finds evidence of their legendary friendliness and neighbourliness. And he seeks to understand their deep attachment either to the left and right in politics and their unifying distrust of "Central Canada."
"From the Hardcover edition.
About the Author
Robert Collins grew up in rural Saskatchewan during the Depression in conditions described in his renowned best-seller "Butter Down the Well." He has served as editor of the "Imperial Oil Review" and has written for "Maclean's," the "Star Weekly," "Toronto Life," and has more recently travelled the country writing major articles for "Reader's Digest." His most recent published book is "You Had To Be There," a history of his own over-65 generation. "Prairie People" is his fifteenth book. "From the Hardcover edition."
Advertisement