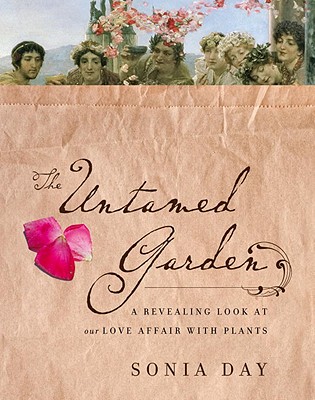 The Untamed Garden: A Revealing Look at Our Love Affair with Plants (Hardcover)
A Revealing Look at Our Love Affair with Plants
McClelland & Stewart, 9780771025051, 240pp.
Publication Date: November 8, 2011
* Individual store prices may vary.
or
Not Currently Available for Direct Purchase
Description
Which suggestive plant caused a queen to faint when it was presented to her at court? What was the original French name for the Great Maiden's Blush rose that had the Victorians blushing? Why are figs and pomegranates thought to be the real forbidden fruit that led Adam and Eve into temptation?

In this delightful gift book, master gardener Sonia Day brings together delicious tidbits from myth, history, botany, and plant lore to reveal how plants have seduced our hearts, minds, and bodies throughout the ages. Organized in thematic chapters that loosely follow the arc of a love affair, the book journeys from "Innocence" (the notion of a virgin being "deflowered" originated with the belief that flowers were pure and sexless), through such stages as "Flirtation," "Seduction," "Lust," "Deception," and "Rapture." Scattered throughout are love potions, examples from the Victorian "language of flowers," and charming anecdotes, all told in Day's delightfully irreverent and conversational voice. Gorgeously designed and featuring full-colour photos and illustrations throughout, this is a sumptuous tribute to our enduring fascination with plants that is sure to seduce readers everywhere.
About the Author
Master gardener SONIA DAY is the Toronto Star's gardening columnist and a well-respected gardening writer. She is the author of six previous books, including Tulips: Facts and Folklore About the World's Most Planted Flower, which won a Garden Globe Award of Achievement for writing from the U.S.-based Garden Writers Association, and, most recently, "the Globe and Mail "national bestseller Incredible Edibles: 43 Fun Things to Grow in the City. Sonia received Landscape Ontario's Gardening Communicator of the Year Award in 2003.
Praise For The Untamed Garden: A Revealing Look at Our Love Affair with Plants…
Winner of the Garden Writers Association Gold Award for Best Overall Product
Winner of a Garden Writers Association Award for Best Book

"The Untamed Garden takes a tongue-in-cheek approach to romantic and erotic plants. . . .This compact hardcover is beautifully printed and illustrated, making it perfect for the bedside table in anyone's boudoir. . . . It's an entertaining and informative read any time of year."
—Ottawa Citizen
 
"A delightfully lusty look at many plants that we innocents assumed were just sitting there soaking up the sun. . . . A must-read."
—National Post
 
"This is one of those rare crossovers that will appeal as much to gardeners as to those who prefer their nature more in the human line. . . . Gorgeous graphics, illustrations and photographs make The Untamed Garden a pleasure to look at. . . . Day's lively, lusty prose gives us peep inside the botanical boudoir. Chapter by chapter, she takes us from Innocence and Flirtation through Rapture and Devotion, illustrating the ingenious wiles plants use to seduce bugs and beasts into joining their procreative action. Along the way, this well-researched little book also lets us glimpse the passions, obsessions and titillations that plants have inspired in humankind throughout history. Never mind fig leaves; you might never view a fig the same way again."
—Toronto Gardens
 
"[A] charming book of botanical tales. . . . You don't have to be a gardener, expert or otherwise, to delight in The Untamed Garden. . . . Scattered throughout the lavishly illustrated little book are tidbits of plant lore that are fascinating and alluring. . . . Forget the chocolates and the wilted hothouse flowers this Valentine's day. Give this charming, fiery and joyous book of floral lore to your beloved instead. Scatter a few rose petals around the boudoir and read to each other. We won't peek."
—Halifax Chronicle Herald
Advertisement