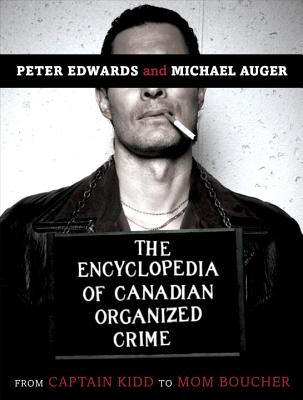 The Encyclopedia of Canadian Organized Crime: From Captain Kidd to Mom Boucher (Paperback)
From Captain Kidd to Mom Boucher
McClelland & Stewart, 9780771030444, 272pp.
Publication Date: September 14, 2004
* Individual store prices may vary.
or
Not Currently Available for Direct Purchase
Description
You may never again think of Canadians as law-abiding
Respected crime reporters Peter Edwards and Michel Auger have pooled their research and expertise to create The Encyclopedia of Canadian Organized Crime. Sometimes grim, sometimes amusing, and always entertaining, this book is filled with 300 entries and more than 150 illustrations, covering centuries of organized crime. From pirates such as Black Bart, who sheltered in isolated Newfoundland coves to strike at the shipping lanes between Europe and the North American colonies, all the way to the most recent influx of Russianmobsters, who arrived after the end of the Cold War in 1989 and are now honing their sophisticated technological skills on the Western public, Edwards and Auger enumerate the personalities and the crimes that have kept Canadian law enforcement busy. Here too are the Sicilian and Calabrian gangs, the American and Colombian drug connections, the bikers whose internal struggles have left innocent bystanders dead (and who tried to murder Auger), as well as many unexpected figures, such as the Sundance Kid, who spent years in Canada.
Arranged in alphabetical entries for easy browsing, and illustratedthroughout with photographs and drawings, this is a book that will both entertain and inform.
About the Author
Peter Edwards, a reporter for the Toronto Star, is the author of One Dead Indian and A Mother s Story: The Fight to Free My Son David (with Joyce Milgaard), which was shortlisted for an Arthur Ellis Award. Michel Auger is a reporter with Le Journal de Montreal. In 2000, he was shot in the back, probably by bikers, and wrote about it in The Biker Who Shot Me: Recollections of a Crime Reporter."
Praise For The Encyclopedia of Canadian Organized Crime: From Captain Kidd to Mom Boucher…
"With admirable diligence and dispatch, the authors harmonize the multiple solitudes that make up this vast nation into one fascinating, readable tome of transgression and terror." -- Globe and Mail
Advertisement