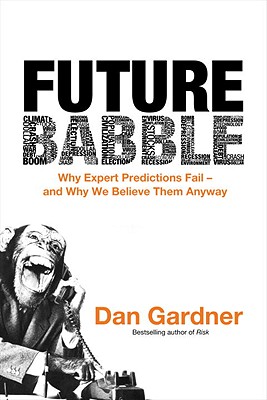 Future Babble
Why Expert Predictions Fail - and Why We Believe Them Anyway
Hardcover

* Individual store prices may vary.
Other Editions of This Title:
Digital Audiobook (3/15/2011)
Paperback (4/1/2012)
Paperback (5/1/2011)
Hardcover (3/17/2011)
Description
In 2008, as the price of oil surged above $140 a barrel, experts said it would soon hit $200; a few months later it plunged to $30. In 1967, they said the USSR would have one of the fastest-growing economies in the year 2000; in 2000, the USSR did not exist. In 1911, it was pronounced that there would be no more wars in Europe; we all know how that turned out. Face it, experts are about as accurate as dart-throwing monkeys. And yet every day we ask them to predict the future — everything from the weather to the likelihood of a catastrophic terrorist attack. Future Babble is the first book to examine this phenomenon, showing why our brains yearn for certainty about the future, why we are attracted to those who predict it confidently, and why it's so easy for us to ignore the trail of outrageously wrong forecasts.

In this fast-paced, example-packed, sometimes darkly hilarious book, journalist Dan Gardner shows how seminal research by UC Berkeley professor Philip Tetlock proved that pundits who are more famous are less accurate — and the average expert is no more accurate than a flipped coin. Gardner also draws on current research in cognitive psychology, political science, and behavioral economics to discover something quite reassuring: The future is always uncertain, but the end is not always near.
Praise For Future Babble: Why Expert Predictions Fail - and Why We Believe Them Anyway…
"It's rare for a book on public affairs to say something genuinely new, but Future Babble is genuinely arresting, and should be required reading for journalists, politicians, academics, and anyone who listens to them. Mark my words: if Future Babble is widely read, then within 3.7 years the number of overconfident predictions by self-anointed experts talking through their hats will decline by 46.2%, and the world will become no less than 32.1% wiser."
– Steven Pinker, Harvard College Professor of Psychology, Harvard University, and author of How the Mind Works and The Stuff of Thought
 
"Well-researched, well-reasoned, and engagingly written. I'm not making any predictions, but we can only hope that this brilliant book will shock the human race, and particularly the chattering expert class, into a condition of humility about proclamations about the future."
– John Mueller, author of Overblown and Political Scientist, Ohio State University
 
"As Yogi Berra observed, 'it's tough to make predictions, especially about the future.' In this brilliant and engaging book, Dan Gardner shows us how tough forecasting really is, and how easy it is to be convinced otherwise by a confident expert with a good story. This is must reading for anyone who cares about the future."
– Paul Slovic, Professor of Psychology, University of Oregon
 
"If you are paying a lot of money for forecasting services – be they crystal ball gazers or math modelers or something in between – put your orders on hold until you have had a chance to read this book – a rare mix of superb scholarship and zesty prose. You may want to cancel, or at least re-negotiate the price. For the rest of us who are just addicted to what experts are telling us everyday in every kind of media about what the future holds, Future Babble will show you how to be a bit smarter than what you usually hear."
– Philip Tetlock, author of Expert Political Judgement and Mitchell Professor of Organizational Behavior, Hass School of Business, University of California
McClelland & Stewart, 9780771035197, 320pp.
Publication Date: October 12, 2010
About the Author
DAN GARDNER is a prize-winning journalist and author of Risk: Why We Fear the Things We Shouldn't -- and Put Ourselves in Greater Danger. He is a senior writer and columnist at the "Ottawa Citizen," and a popular public speaker. He holds a law degree and master's in history.
or
Not Currently Available for Direct Purchase