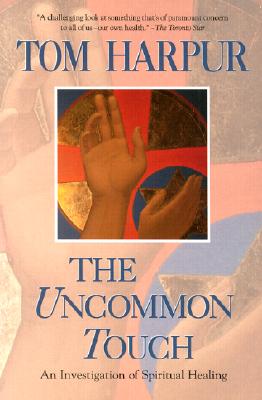 The Uncommon Touch (Paperback)
McClelland & Stewart, 9780771039461, 280pp.
Publication Date: March 11, 1995
* Individual store prices may vary.
or
Not Currently Available for Direct Purchase
Description
Long ago - before there were doctors, pharmacists, and hospitals - religion and medicine were one, and physical and spiritual ailments were treated alike. Most world religions practised healing, including the early Christian Church, which followed Jesus Christ's examples of miraculous healings of the lame and the blind. But, to its cost, the modern Church has largely forgotten its healing role, says Tom Harpur in
The Uncommon Touch
, a powerful and persuasive investigation of spiritual healing.
Today in the West, medical science and bogus faith-healings have made the idea of spiritual healing almost laughable. Yet the ancient practice of the laying-on of hands is not only still performed, it is now gaining credibility, even among physicians and other sceptics, most notably in Britain.
In
The Uncommon Touch
, Harpur investigates the religious roots of spiritual healing and looks at the remarkable work and ideas of modern healers. He also describes the many scientific studies that demonstrate clearly the healing and nurturing power of this astonishing phenomenon and verify that something more than the power of suggestion is at work. These include experiments showing increased growth in yeasts that have received the laying-on of hands and documentation of the effectiveness of Therapeutic Touch, a technique used by more than 30,000 nurses in North America.
Using the spirit to help heal the body's ills is an old idea - one whose time has come again.
From the Hardcover edition.
About the Author
A former Rhodes scholar and professor of New Testament studies at Wycliffe College, Toronto, Tom Harpur is also an Anglican priest. He resigned from parish work in 1979 to write full-time in the mass media, in the process extending his "parish" to the whole of Canada. His work in newspapers, television, and his books, notably For Christ's Sake and Life After Death, have consolidated his reputation as one of Canada's pre-eminent religious voices and as a sound spiritual guide for modern times. From the Hardcover edition.
Praise For The Uncommon Touch…
"The Uncommon Touch constitutes one more pressure point on the medical profession to open its eyes to a dimension of life that is tangible, even if not measurable by its own present yardsticks."
–The Christian Science Monitor

"An earnest proclamation that the life force can renew when asked."
–Kirkus Reviews

"This book holds compelling arguments for the validity of non-medical healing as a treatment for the ill."
–Winnipeg Free Press

"A cogent and sensitive appraisal of healing."
–The Glasgow Herald

"His ability to balance spiritual experience with sound investigative reporting makes for fascinating reading."
–Globe and Mail

"An important book for…anyone who has sat helplessly beside someone in pain, wishing there was something they could do."
–Quill & Quire
Advertisement