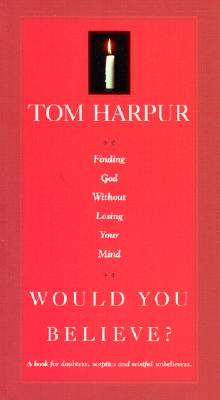 Would You Believe? (Paperback)
McClelland & Stewart, 9780771039492, 240pp.
Publication Date: September 1, 2000
* Individual store prices may vary.
or
Not Currently Available for Direct Purchase
Description
A hundred years ago, most people accepted without question what their priest or rabbi or imam taught them about God, but many people today, educated to think for themselves, find that the concepts of God taught by the world's major religions either insult or contradict their intelligence. At the same time they find that having no faith has left a yawning spiritual void in their lives. In
Would You Believe?,
Tom Harpur deals with the tough questions raised today by real people, such as how to reconcile the presence of evil, pain and suffering with belief in a loving God.
The challenge we face, Harpur writes, is not to find a substitute but to rediscover God under the encrustation of ritual and doctrine that the various faiths have built up. We can go beyond all narrow-minded claims of being the only true religion, the only correct interpreter of God, he says, when we understand that all faiths are simply routes towards God that humans have been inspired to create. We can use our intelligence to believe in God, rather than deny it in order to swallow notions devised for a different people and a different time.
From the Hardcover edition.
About the Author
A former Rhodes scholar and professor of New Testament studies at Wycliffe College, Toronto, Tom Harpur is also an Anglican priest. He resigned from parish work in 1979 to write full-time in the mass media, in the process extending his parish to the whole of Canada. His work in newspapers, television, and his books, notably For Christ s Sake and Life After Death, have consolidated his reputation as one of Canada s pre-eminent religious voices and as a sound spiritual guide for modern times. From the Hardcover edition."
Praise For Would You Believe?…
"Brilliantly conceived and intellectually challenging."
–Toronto Star

"A reasoned, faith-full, searching examination of basic questions about religious belief today."
–Ann Copeland, Ottawa Citizen

"With the intelligence [Harpur] brings to bear in thinking about God, one is more tempted to believe."
–London Free Press

"Harpur speaks to the growing number of people who have drifted away from the religion of their parents and who now face a spiritual vacuum."
–Southam News
Advertisement