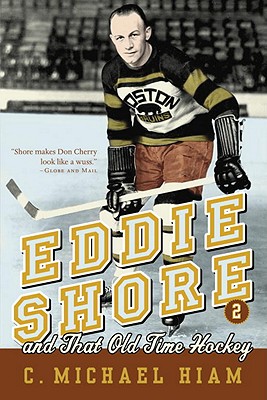 Eddie Shore and That Old-Time Hockey (Paperback)
McClelland & Stewart, 9780771041297, 344pp.
Publication Date: September 27, 2011
* Individual store prices may vary.
or
Not Currently Available for Direct Purchase
Description
Eddie Shore was the Babe Ruth and Ty Cobb of hockey, a brilliant player with an unmatched temper. Emerging from the Canadian prairie to become a member of the Boston Bruins in 1926, the man from Saskatchewan invaded every circuit in the NHL like a runaway locomotive on a downgrade. Hostile fans turned out in droves with a wish to see him killed, but in Boston he could do no wrong.

During his twenty-year professional career, the controversial Shore personified "that old time hockey" like no other, playing the game with complete disregard for his own safety. Shore was one of the most penalized men in the NHL, and also a perennial member of its All Star Team. A dedicated athlete, Shore won the Hart Trophy for the league's most valuable player four times — a record for a defenseman not since matched — and led Boston to two Stanley Cups in 1929 and 1939. In 1933, Shore was the instigator of hockey's most infamous event, the tragic "Ace Bailey Incident," and during his subsequent sixteen-game suspension the fans chanted, "We want Shore!" After retiring from the NHL in 1940, Shore's passion for the game remained undiminished, and as owner and tyrant of the AHL Springfield Indians, he won championship after championship.

This is an action-packed and full-throated celebration of the "mighty Eddie Shore" — and also of the sport of hockey as it was gloriously played in a bygone age.
About the Author
C. MICHAEL HIAM was born in 1962 in Boston and came of age as a hockey fan at the height of the Bobby Orr era, when there were no Bruins tickets to be found. As an undergraduate, however, he both played hockey and attended as many Bruins games as he could. Today, Hiam is a licensed psychologist in New York and Massachusetts, and has authored and co-authored a number of scientific articles. In 2006, his first book, a biography of a CIA analyst active during the Vietnam War, Who the Hell Are we Fighting? The Story of Sam Adams and the Vietnam Intelligence Wars, was published by Steerforth Press. Today, Hiam lives in Newton, MA, with his wife and three children, and on Saturday mornings is an assistant coach for the Newton Youth Hockey Association. "From the Hardcover edition."
Praise For Eddie Shore and That Old-Time Hockey…
"This is an excellent, long-overdue take on the ground-breaking blueliner's life. . . . Hiam delivers a well-rounded picture of the path from Western Canada's rough-and-tumble leagues to 1930s NHL stardom."
—Straight.com

"Hiam's book Eddie Shore and that Old-Time Hockey is full of little stories like that, making his Shore biography a fun adventure. It was a different time with some crazy characters, and Hiam tries his best to bring it all back to life." 
—Joe Pelletier's Hockey Book Reviews.com
 
"[Eddie Shore's Career] is chronicled by Hiam in his celebration of, and attempt to resurrect, a fading legend. But what Hiam relishes as much is the unhelmeted recklessness Shore brought to the ice year after year. He frequently led the league in penalties, was generally feared and, most notoriously, ended the career, and nearly the life, of Toronto Maple Leafs star Ace Bailey with a vicious check from behind in 1933."
—The Globe & Mail

"C. Michael Hiam attempts to rectify this situation in his biography — Eddie Shore and That Old Time Hockey [Published by McClelland & Stewart --2010].  A thoroughly researched effort, the book takes us from the Saskatchewan plains of Shore's birth and youth, through the rough and tumble world of professional hockey in his prime, to the travails of minor league ownership and management up to his 1985 death.  Along the way, the reader is provided with some admirable detail of Shore's on-ice escapades, tantalizing glimpses of his essential character, and some startling insights into the world of professional hockey in its fledgling years."
—The Hockey Writers
 
"Eddie Shore and That Old Time Hockey paints a picture of a man victimized by his reputation, one that was not wholly deserved in the author's opinion, portraying the subject as a man who rarely initiated on-ice unpleasantness but had absolutely no qualms about visiting retribution upon the heads, limbs and bodies of those that did him wrong.
Using original newspaper and magazine articles as well as interviews with family members and others who knew Shore well Hiam gives his readers a glimpse into the portions of Shore's life that was lived away from the ice, an area that has gone all but unexplored until now." 
—Inside Hockey.com
Advertisement