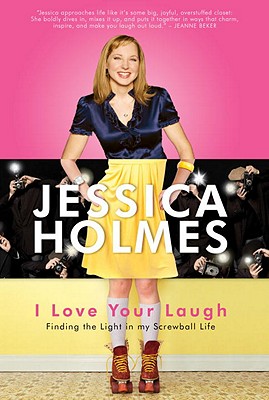 I Love Your Laugh: Finding the Light in My Screwball Life (Hardcover)
Finding the Light in My Screwball Life
McClelland & Stewart, 9780771041341, 248pp.
Publication Date: September 27, 2010
* Individual store prices may vary.
or
Not Currently Available for Direct Purchase
Description
The three years I spent in prison taught me to hate. Fork fights and throat punches were my pastimes. But that's how it goes when you've raised yourself on spite and envy.

OK, that wasn't me. Not all comedians come from a dark place. . . .

In this hilarious memoir, Jessica Holmes, a fan favourite on the hit shows The Holmes Show and Royal Canadian Air Farce, offers her witty observations on everything from her eclectic upbringing by a right-wing, Mormon father and a feminist mother, to her experiences as a missionary in Venezuela, to her own trial-and-error adventures in childrearing. Delving into personal experiences never discussed before, Holmes reveals her struggle to find laughter off-stage and spins comedy gold from her fumbles. The combination makes for an inspirational, heartwarming, and thoroughly side-splitting treat.
About the Author
JESSICA HOLMES is a comedian, writer, actress, and speaker. She has appeared in numerous films and television shows, as well as onstage in the Just for Laughs comedy festival in Montreal, in Second City's Touring Company, and opening for comedic luminaries such as Leslie Nielsen and Jerry Seinfeld. She has starred in her own comedy series and special, "The Holmes Show "and "Holmes Alone," and most recently in Royal Canadian Air Farce. She has been nominated for several Canadian Comedy Awards as well as the Gemini Award for her TV and sketch comedy work.
Praise For I Love Your Laugh: Finding the Light in My Screwball Life…
"Whether Jessica is performing on stage as Celine Dion, or 'work'n it' on TV, she is always perfection, and this book is no exception. It's a fresh, fun and sometimes odd look into her past. Jessica's humour is front and center from cover to cover. Love the book . . . and love the girl!" 
— Steven Sabados & Chris Hyndman, designers

"We need a book like this out there. Jessica kicks down the "white picket fence" to reveal the realities of life, and reminds us that you have to laugh. Thanks, Jessica."
— Cheryl Hickey, ET Canada

"Jessica approaches life like some big, joyful, overstuffed closet: She boldly dives in, mixes it up, and puts it together in ways that charm, inspire, and make you laugh out loud. Her style is just plain funny." 
— Jeanne Beker

"Jessica Holmes is honest , brave, super smart and very very funny. . . . I admire her so much for sharing these insightful and very personal moments -- and for making me pee my pants!" 
— Melanie Doane, singer/songwriter
Advertisement