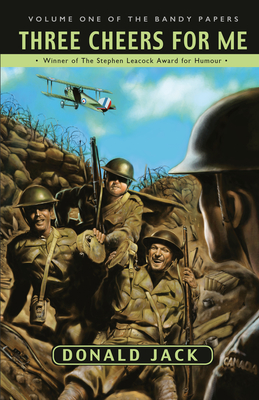 Three Cheers for Me: Volume One of the Bandy Papers (Paperback)
Volume One of the Bandy Papers
McClelland & Stewart, 9780771043802, 336pp.
Publication Date: August 28, 2001
Description
It is 1916. Bartholomew Bandy, fourth-year medical student, decides that it is time to join the War. The prim young Canadian expects that he will have few problems remaining clean and virtuous. But he is aware that his bland, horse-like face drives people crazy, and that he has a certain tendency to be accident-prone. How will the war affect him, and vice versa? The realities of trench war at the front provide a contrasting backdrop for his adventures, as he blunders into contact with all sorts of people, both fictional and historical (the King, Lester Pearson, and Winston Churchill). Three Cheers For Me was first published in 1962, to wide critical acclaim. This expanded version first appeared in 1973, to launch the series now known as The Bandy Papers.
About the Author
Donald Jack was born in England and served in the Royal Air Force in the Second World War before coming to Canada. He was known for his film and television scripts, and his plays. He is most widely remembered, however, for The Bandy Papers, a series of comic novels recounting the adventures of a blundering First World War hero who went on to fame and misfortune in the post-war world. The first six books in the series, Three Cheers For Me; That's Me In The Middle; It's Me Again; Me Bandy, You Cissie; Me Too and This One's On Me were recently re-published by McClelland & Stewart. They gained no fewer than three Leacock Awards for Humour and the undying loyalty of Bandy fans everywhere. Donald Jack passed away in 2003 at the age of 78.
Praise For Three Cheers for Me: Volume One of the Bandy Papers…
"A comical tour de force."
–Montreal Gazette

"Outrageously funny."
–Hamilton Spectator

"To write good comedy is hard, and yet, when it is of such a high standard as in these two volumes, it does not appear in the least difficult."
–Quill & Quire
Advertisement