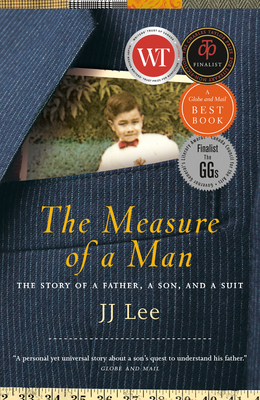 The Measure of a Man: The Story of a Father, a Son, and a Suit (Paperback)
The Story of a Father, a Son, and a Suit
McClelland & Stewart, 9780771046483, 293pp.
Publication Date: May 15, 2012
* Individual store prices may vary.
or
Not Currently Available for Direct Purchase
Description
FINALIST - Hilary Weston Writers Trust Prize for Non-Fiction (2012)
FINALIST - Charles Taylor Prize for Literary Non-Fiction (2012)
FINALIST - Governor General's Literary Award - Non-Fiction (2012)
FINALIST - BC Book Prize's Hubert Evans Non-Fiction Prize (2012)
A son's decision to alter his father's last surviving suit for himself is the launching point for this powerful book part personal memoir, part social history of the man's suit about fathers and sons, love and forgiveness, and learning what it means to be a man.
For years, journalist and amateur tailor JJ Lee tried to ignore the suit hanging at the back of his closet. It was his father's suit. But when JJ decides to make the suit his own, little does he know he is about to embark on a journey to understand his own past.
As JJ cuts into the jacket, he begins to piece together the story of his relationship with his father, a charismatic but troubled Montreal restauranteur whose demons brought tumult upon his family. JJ also recounts his own ups and downs during the year he spent as an apprentice at Modernize Tailors the last of the great Chinatown suitmakers in Vancouver where, under the tutelage of his octogenarian master tailor, he learns invaluable lessons about life. Woven throughout JJ's tale are stories of the suit's own evolution, illuminating how this humble garment has, for centuries, been the surprising battleground for the war between generations.
Written with great wit, bracing honesty, and narrative verve, and featuring line drawings throughout by the author, "The Measure of a Man" is an unforgettable story of love, forgiveness, and discovering what it means to be your own man.
About the Author
JJ LEE is the menswear columnist for the Vancouver Sun and broadcasts a weekly fashion column for CBC Radio in Vancouver. He spent a year as an apprentice at Modernize Tailors and was featured in the award-winning film about

the shop, Tailor Made: The Last Tailor Shop in Chinatown. In 2007, he wrote and presented an hour-length radio documentary on the social history of suits, entitled "The Measure of Man," for CBC Radio's Ideas. Lee lives in New Westminster, where he works as a creative consultant for a design firm.
Praise For The Measure of a Man: The Story of a Father, a Son, and a Suit…
A Globe and Mail Best Book

"A personal yet universal story about a son's quest to understand his father. This beautiful, cleverly executed story gets to the very heart of the most basic masculine bond, and how even through disappointment, abandonment, anger, confusion and pain, a son can love, honour and protect his father."
—Globe and Mail
 
"Beautifully crafted, Lee's memoir is a heartbreaking page-turner about a family, an abusive father, and men's fashion. Who could have thought these themes could work together? In his first book, Lee has shown us how."
—Jury citation, Charles Taylor Prize for Literary Non-Fiction
 
"Lee seamlessly weaves together elements of painful personal experience, fashion history, and his modern-day quest to learn the art of tailoring and find a place for himself in the world. . . . An intimate and thoughtful rumination on what it means to be a son, a father, and a man."
—Schema Magazine
 
"An exquisite book."
—Maclean's
 
"Touching and inquisitive . . . [A] striking and accomplished blend of humour, information and pathos. . . . [A] thoughtful and intermittently provocative memoir."
—National Post
 
"A deftly crafted memoir. . . ."
—Montreal Gazette
 
"At times incredibly witty and wry, and at other times endearing and touching . . . The Measure of a Man is a great read."
—Tenth to the Fraser
 
"[An] often heartbreaking yet humorous and compelling memoir. . . ." 
—Calgary Herald
 
"Takes us into the nearly vanished world of exquisite, made-to-measure suit tailoring, and on his personal journey to understand his late father's life and the sometimes-tormented relationship the two shared. . . . His tender, sometimes funny and often achingly sad story revolves around a suit left behind after his father's death, and his desire to remake it into something that would fit him. I loved this book for its honest tone as well as for the spicy tidbits of suit-making history with which he seasons his story. . . ."
—Chronicle Herald (Halifax)
 
"Lee's book skillfully weaves a personal struggle to understand his estranged father after his death through the process of repurposing his dad's suit to fit his smaller frame. . . . Truly inspires."
—Gear Patrol

"A graceful, compelling memoir. . . . A thoughtful, loving and honest narrative, elegant in its clarity and observation."
—Minneapolis-Saint Paul Star Tribune

Advertisement