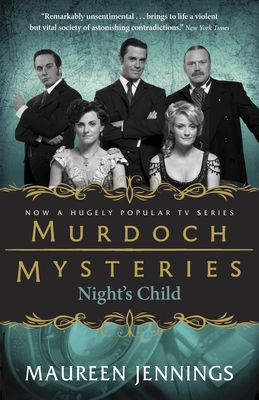 Night's Child (Paperback)
McClelland & Stewart, 9780771046773, 372pp.
Publication Date: February 26, 2013
Description
Gorgeous new TV tie-in edition of Maureen Jennings's immensely popular Inspector Murdoch series, basis for the long-running The Murdoch Mysteries, now on CBC. After thirteen-year-old Agnes Fisher faints at school, her teacher, the young and idealistic Amy Slade, is shocked to discover photographs in the girl's desk. One is of Agnes in a lewd pose, captioned "What Mr. Newly Wed Really Wants." When Agnes does not show up at school the next day, her teacher takes the two photographs to the police. Then Detective Murdoch, furious at the sexual exploitation of such a young girl, sets out to find the photographer and put him behind bars.
About the Author
Born in England, MAUREEN JENNINGS taught English before becoming a psychotherapist. The first Detective Murdoch mystery was published in 1997. Six more followed, all to enthusiastic reviews. In 2003, Shaftesbury Films adapted three of the novels into movies of the week, and four years later the Murdoch Mysteries TV series was created; it is now shown around the world. In Canada, CBC television is carrying on the series beginning in Fall 2012. Her new trilogy, set in World War II-era England, got off to a spectacular start with 2011's Season of Darkness, followed by Beware this Boy in Fall 2012. Maureen lives in Toronto with her husband and their dogs. Visit www.maureenjennings.com.
Praise For Night's Child…
 • "The fifth novel in this remarkably unsentimental series . . . brings to life a violent but vital society of astonising contradictions." - New York Times
 • "Jennings has . . . a fine eye for telling details and good characters. . . . Jennings handles all the plotlines with aplomb, while never losing her grounding in Toronto history." - Globe and Mail
 • "The portrayal of Victorian life in Toronto rings true. We feel the chill of the poorly heated rooms. . . . This is a well-written, tightly plotted mystery." - Quill & Quire
Advertisement