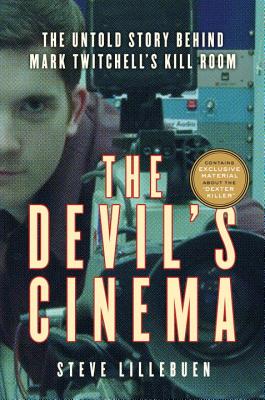 The Devil's Cinema
The Untold Story Behind Mark Twitchell's Kill Room
Hardcover

* Individual store prices may vary.
Other Editions of This Title:
Paperback (2/5/2013)
Description
Reality and fantasy collide with shocking results in this riveting account of the notorious case of Mark Twitchell - and the police investigation into one of the most bizarre murders in recent memory.

In October 2008, Johnny Altinger, a 38-year-old Edmonton man, was on his way to a tryst with a woman he had met on an online dating website when he emailed the directions to their rendezvous to a concerned friend. He was never seen again. Two weeks before Altinger's disappearance, independent filmmaker Mark Twitchell began shooting a low-budget horror film about a serial killer who impersonates a woman on an online dating website to lure his victims to their gruesome deaths. But these are just the starting points of the stranger-than-fiction case of Mark Twitchell, a man with a startling plan to turn his life-long love of fantasy and desire for fame into reality:

- Did Twitchell, in a horrific example of life imitating art, act out the grisly premise of his own script?

- Obsessed with Dexter, the popular TV show and book series about a fictional vigilante serial killer, Twitchell assumed Dexter Morgan's profile on Facebook. But how far did he intend to take his fascination with Dexter?

- Is the shocking document "S.K. Confessions" a graphic work of fiction that, as Twitchell claims, he wrote to promote his film? Or is it a diary he kept of his transformation into a killer, and proof that the police stopped a prolific serial killer at the very beginning?

Veteran journalist Steve Lillebuen provides a gripping investigative account of the nesting doll intricacies of the case, plunging us into the world of pop culture fanaticism and into the mind of a self-professed psychopath. Drawing on extensive interviews, Lillebuen illuminates what can happen when some of our culture's darkest obsessions are pushed to extremes.
Praise For The Devil's Cinema: The Untold Story Behind Mark Twitchell's Kill Room…
"A detailed, well-constructed account of a diabolical real-life Dexter. Lillebuen has written a riveting, true crime page-turner about aspiring filmmaker Mark Twitchell, who turned his obsession with fantasy into horrible reality."
—Robert Remington, co-author of Runaway Devil: How Forbidden Love Drove a 12-year-old to Murder Her Family

"The Devil's Cinema uses police reports, news coverage, social media and interviews with those involved -- including Twitchell himself -- to create a compelling and frightening account of the crime. . . . Lillebuen takes readers deep inside the mind of this creative pathological liar who blurred the lines between fantasy and reality. The author creates a fascinating and detailed narrative, from the killer's and victim's early lives to the dramatic and bizarre courtroom trial. With its ties to online communities, dating sites, pop culture and modern filmmaking, The Devil's Cinema is a terrifying and intriguing account of murder in the digital age."
—Winnipeg Free Press
 
"Based on reams of first-person interviews, newspaper reports and court documents, The Devil's Cinema is a meticulous reconstruction of Mark Twitchell's Dexter-worthy shenanigans. . . . [The book is an] admirably structured, thoroughly readable parsing of a psychopathic mind."
—National Post
 
"Show[s] how Twitchell went from a husband and father working sales jobs to the prime suspect in an outrageous murder case."
—Edmonton Journal
 
"Lillebuen does an admirable job in pulling together a story that has more real-life twists and turns than anything famed director Alfred Hitchcock could have applied to the silver screen. Truth is, indeed, always stranger than fiction."
—Wetaskiwin Times
 
"Remind[s] us how the borders of human interaction and connective technology have shifted so drastically, and in so little time."
—Edmonton Journal
McClelland & Stewart, 9780771050336, 352pp.
Publication Date: March 27, 2012
About the Author
STEVE LILLEBUEN is an experienced crime reporter whose work has been published in a wide range of respected media, including the "Edmonton Journal," the "Globe and Mail," the "Toronto Star," the "National Post," the "Sydney Morning Herald," and around the world through The Associated Press and its related agencies. He currently divides his time between Edmonton and Australia.
or
Not Currently Available for Direct Purchase