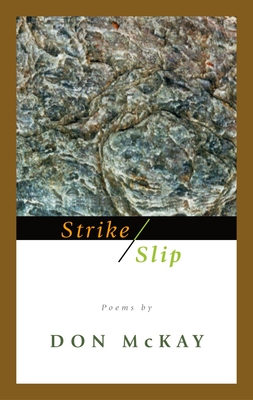 Strike/Slip (Paperback)
McClelland & Stewart, 9780771055430, 88pp.
Publication Date: February 28, 2006
* Individual store prices may vary.
Description
In this extraordinary collection from one of our most celebrated poets, Don McKay walks the strike-slip fault between poetry and landscape, sticks its strange nose into the cold silence of geologic time, meditates on marble, quartz and gneiss, and attends to the songs of ravens and thrushes and to the clamour of the industrialized bush. Behind these poems lies the urge to engage the tectonics of planetary dwelling with the rickety contraption of language, and to register the stress, sheer and strain — but also the astonishment — engendered by that necessary failure.
About the Author
Don McKay is the author of eleven books of poetry, most recently Strike/Slip. He has won two Governor General's Awards for Poetry and has been shortlisted twice for the Griffin Poetry Prize, most recently for Camber: Selected Poems, which was a Globe and Mail Notable Book of the Year. McKay is also known as a poetry editor, and he has taught poetry in universities across the country.
Praise For Strike/Slip…
"In Strike/Slip, Don McKay walks us out to the uncertain ground between the known and unknown, between the names we have given things and things as they are. . . . McKay's meditations on time's evidence acquire a similar heft, proposing, in their discipline of mind and generosity of spirit, a way to be at home in the world. A book of patience, courage, and quiet eloquence."
— Judges' Citation, 2007 Griffin Poetry Prize

"McKay doesn't write about natural science so much as through it, using its terms and principles to explore the science of human nature. A poem about a hike through 'the broken prose of the bush roads' gradually, gracefully metamorphoses into a meditation on desire. . . . These exuberantly musical and shrewd poems are ecological in the fullest sense of the word: they seek to elucidate our relationships with our fragile dwelling places both on the earth and in our own skins."
— New York Times Book Review

"Don McKay's poems succeed at both the intellectual and the instinctive level. He is an essential poet of our time. . . ."
— Judges' citation, 2005 Griffin Poetry Prize

"He is our most inventive poet, a master of metaphor and a stylist with impeccable tone."
— Patrick Lane, Globe and Mail
or
Not Currently Available for Direct Purchase