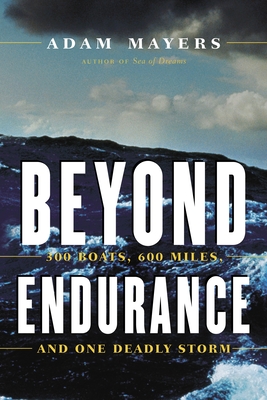 Beyond Endurance: 300 Boats, 600 Miles, and One Deadly Storm (Paperback)
300 Boats, 600 Miles, and One Deadly Storm
McClelland & Stewart, 9780771057038, 266pp.
Publication Date: May 6, 2008
* Individual store prices may vary.
or
Not Currently Available for Direct Purchase
Description
The August 1979 Fastnet race, from Cowes on the Isle of Wight in the English Channel to the Fastnet lighthouse off the south coast of Ireland, started calmly enough for the 303 boats taking part. The previous two races had been uneventful and none of the sailors, among them former British prime minister Ted Heath and American cable TV millionaire Ted Turner, anticipated anything out of the ordinary this time. They expected a challenge, an exhilarating ride, and three days of top-flight competition. But once the yachts left the shelter of the Cornish coast, they were hit by a storm that gained ferocity minute by minute until it was blowing Force 10 and raising mountainous waves. At Force 10, the wind speed at sea is fifty-five knots, just shy of a hurricane. Winds that strength on land uproot trees and demolish poorly constructed buildings.
Beyond Endurance is the story of that race, which culminated in a night of terror, courage, and split-second reactions, of ferocious seas that forced each sailor either to give up and face almost certain death or to find within himself the extraordinary strength and skill that might, just might, keep him alive. Not all of them made it. Among the survivors were twenty-six men from Canada, Britain, and the United States, whom Mayers has interviewed about what they still call "that night."
Beyond Endurance""is Mayers's dramatic story of the Fastnet race: its hopeful start, the camaraderie of its crews, the challenges of the earlier cross-Channel races -- and the deadly storm that caused the worst tragedy ever to befall an ocean-sailing race.
"From the Hardcover edition.
About the Author
A journalist with the "Toronto Star," Adam Mayers is a senior editor of the newspaper's website. A sailing enthusiast, Mayers's first book on ocean racing was "Sea of Dreams" (2004). In 1979, he was living in Cornwall, U.K., when disaster struck the Fastnet race. Today, he and his family live in Oakville. "From the Hardcover edition."
Praise For Beyond Endurance: 300 Boats, 600 Miles, and One Deadly Storm…
Praise for Sea of Dreams:

"[A] dramatic tale of grit and stamina."
— Hamilton Spectator

"Readers — sailors and non-sailors alike — will shiver with fear and cold as the yachts sail on the edge of control."
— Halifax Chronicle Herald

"A gripping page-turner. . . . Mayers also offers a glimpse into the soul of human endurance."
— Toronto Star
Advertisement