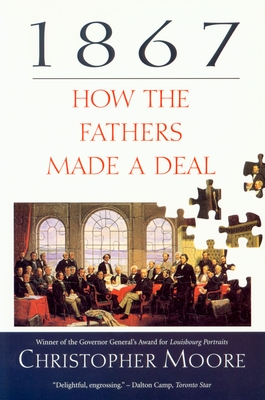 1867: How the Fathers Made a Deal (Paperback)
How the Fathers Made a Deal
McClelland & Stewart, 9780771060960, 296pp.
Publication Date: October 10, 1998
* Individual store prices may vary.
or
Not Currently Available for Direct Purchase
Description
"In the 1860s, western alienation began at Yonge Street, and George Brown was the Preston Manning of the day." So begins Christopher Moore's fascinating 1990s look at the messy, dramatic, crisis-ridden process that brought Canada into being - and at the politicians, no more lovable or united than our own, who, against all odds, managed to forge a deal that worked.
From the first chapter, he turns a fresh, perceptive, and lucid eye on the people, the issues, and the political theories of Confederation - from John A. Macdonald's canny handling of leadership to the invention of federalism and the Senate, from the Quebec question to the influence of political philosophers Edmund Burke and Walter Bagehot.
This is a book for all Canadians who love their country - and fear for it after the failure of the constitution-making of the 1990s. Here is a clear, entertaining reintroduction to the ideas and processes that forged the nation.
From the Hardcover edition.
About the Author
Christopher Moore may be Canada's most versatile writer of history. His first book, Louisbourg Portraits, won a Governor General's Award and continues to delight readers, and his Loyalists: Revolution, Exile, Settlement won the Secretary of State's Prize for Excellence in Canadian Studies. He co-authored the authoritative Illustrated History of Canada, and his history of Canada for young people, The Story of Canada (co-authored with Janet Lunn), was a bestseller and won the Mister Christie Award for Children's Books. He has also written The Law Society of Upper Canada and Ontario's Lawyers, Canada: Our Country (co-authored with Mark Kingwell), and 1867: How the Fathers Made a Deal. He has made many radio documentaries for CBC-Radio's "Ideas" and writes a column for The Beaver. Christopher Moore lives in Toronto.
Praise For 1867: How the Fathers Made a Deal…
"Delightful, engrossing."
–Dalton Camp

"I wish I'd had this book in front of me in high school rather than the book I did. Because this is interesting. And it's actually fun."
–Michael Enright, This Morning

"An immense contribution to our literature and collective memory."
–Gordon F. Gibson, columnist, Globe and Mail
Advertisement