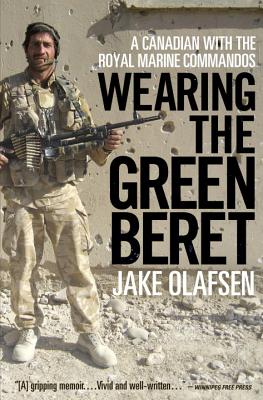 Wearing the Green Beret: A Canadian with the Royal Marine Commandos (Paperback)
A Canadian with the Royal Marine Commandos
McClelland & Stewart, 9780771068577, 301pp.
Publication Date: January 17, 2012
* Individual store prices may vary.
or
Not Currently Available for Direct Purchase
Description
With the authenticity of Jarhead and Bravo Two Zero and the straight-up narrative of Contact Charlie, this military memoir describes what really goes on in the training of an elite soldier and his tours in Afghanistan.
In 2004, Jake Olafsen signed up for the Royal Marines Commandos. He left everything behind at home in Canada on the basis of a spur-of-the-moment decision. The Royal Marines have the toughest and longest basic training of any infantry unit in the world. For Olafson, this meant eight months of wet and cold in England and Wales. It was hell, but he came out with the four Commando qualities that the corps look for: courage, determination, unselfishness, cheerfulness in the face of adversity.
Olafsen went on to serve for four years as a Commando in the Royal Marines, an elite military unit based in the United Kingdom. He went to Afghanistan twice: in 2006, he went to confront the Taliban in Helmand Province for six months, and in 2007, he was sent to do it all over again. His story is filled with good experiences, like the sense of accomplishment, patriotism, and camaraderie, and the opportunity to travel the world. But all good things come at a price. The sacrifices he made for the Corps are significant; he has killed the enemy and he has buried his friends. And in telling his story, Olafsen hopes that he can make sense of it all. This is an honest, gutsy story about the mud and the blood, the triumphs and the tragedies.
"From the Hardcover edition.
About the Author
JAKE OLAFSEN was born and raised on Vancouver Island. After college he worked in the family business in the forest industry. He served with the Canadian Army Reserve for nearly 3 years and helped to battle the B.C. forest fires of 2003. In 2005-2009, Olafsen was a Royal Marine Commando and served 2 tours in Afghanistan. He was most recently in Afghanistan in April 2008, and in total he has spent nearly 14 months in the volatile Helmand province. In 2009, he left the Corps and returned home to Vancouver Island to pursue a career in the international maritime security industry, indulging his passion for mountaineering in his spare time. "From the Hardcover edition."
Praise For Wearing the Green Beret: A Canadian with the Royal Marine Commandos…
"The honest and fast-paced book covers the time between his decision to sign up through to his post-discharge flight home, which he says was definitely a one-way ticket."
—Vancouver Sun
 
"Canadian Jake Olafsen survived and thrived in the Royal Marines from 2005 to 2009, serving two tours in Afghanistan and now relating his experiences in this gripping memoir. . . . Olafsen's descriptions of firefights are vivid and well-written, albeit laced with profanity."
—Winnipeg Free Press
 
". . . Olafson documents it all in its Full Metal Jacket intensity"
—Telegraph Journal
Advertisement