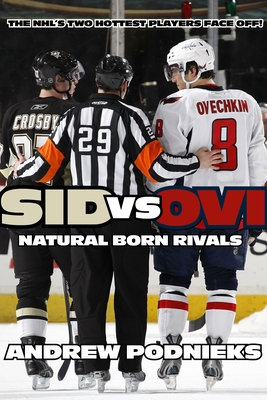 Sid vs. Ovi: Crosby and Ovechkin - Natural-Born Rivals (Paperback)
Crosby and Ovechkin - Natural-Born Rivals
McClelland & Stewart, 9780771071164, 309pp.
Publication Date: October 25, 2011
* Individual store prices may vary.
or
Not Currently Available for Direct Purchase
Description
Even before Sidney Crosby and Alexander Ovechkin began their NHL careers in 2005, the two players were rivals. They first met at the World U20 (Junior) Championship, playing for the gold medal, and ever since they have been opponents in the NHL and international arenas. No two star players could be so different. Crosby is the consummate captain and team player, the responsible face of the NHL. Ovechkin is the loose cannon on ice and off, capable of a great play or a cocky comment.

Sid vs. Ovi traces this intense rivalry game by game, year by year, from 2005 to 2011 and beyond. Their biographies are given consideration alongside their in-game performance and career development to present a clear picture of their lives, their careers, their league, and their countries. Hockey fans can well be divided into those who prefer one or the other of this pair of scintillating talents. But one thing is certain – the presence of one inspires the other to greater heights.
About the Author
ANDREW PODNIEKS is the author of more than 55 books on hockey, most recently Hockey Superstitions: From Playoff Beards To Crossed Sticks and Lucky Socks and Retired Numbers: A Celebration of NHL Excellence. He is also the author of Honoured Canadiens, the bestselling book in 2008 on that team's 100th anniversary; Players: The Ultimate A-Z Guide of Everyone Who Has Ever Played in the NHL; The Complete Hockey Dictionary; World of Hockey: Celebrating a Century of the IIHF; A Day in the Life of the Maple Leafs; Canada's Olympic Hockey History, 1920-2010; A Canadian Saturday Night; and Portraits of the Game: Classic Photographs from the Turofsky Collection at the Hockey Hall of Fame. In addition, he has covered three Olympics and nine World Championships for the IIHF and is the creator and editor of the IIHF Media Guide & Record Book.
Praise For Sid vs. Ovi: Crosby and Ovechkin - Natural-Born Rivals…
Praise for Andrew Podnieks:
"Serious students of the game know already to follow where Podnieks leads . . . his attention to and reverence for the game compares with Nabokov and his bond with butterflies."
— Globe and Mail

Advertisement