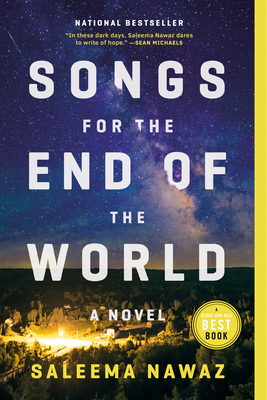 Songs for the End of the World
A Novel
Paperback

* Individual store prices may vary.
Other Editions of This Title:
Digital Audiobook (8/24/2020)
Paperback (8/25/2020)
Description
An enthralling, hopeful novel about the power of human connection in a time of crisis, as the bonds of love, family, and duty are tested. NATIONAL BESTSELLER.

How quickly he'd forgotten a fundamental truth: the closer you got to the heart of a calamity, the more resilience there was to be found.
This is the story of a handful of people living through an unfolding catastrophe.
Elliot is a first responder in New York, a man running from past failures and struggling to do the right thing. Emma is a pregnant singer preparing to headline a benefit concert for victims of a growing outbreak—all while questioning what kind of world her child is coming into. Owen is the author of a bestselling novel with eerie similarities to the real-life crisis, and as fact and fiction begin to blur, he must decide whether his lifelong instinct for self-preservation has been worth the cost.
As we discover these characters' ties to one another—and to the mystery of the so-called ARAMIS Girl—what emerges is an extraordinary web of connection and community that reveals none of us is ever truly alone.
Brilliantly told by an unforgettable chorus of voices, this glittering novel is a moving and hopeful meditation on what we owe to ourselves and to each other. It reminds us that disaster can bring out the best in people—and that coming together may be what saves us in the end.
Praise For Songs for the End of the World: A Novel…
"Given the strengths of the book, and Nawaz's gifts as a writer, Songs for the End of the World was always going to be a great novel, no matter when it was published. Appearing now, however, it also serves as a pool of warm light in the darkness." —Toronto Star

"Powerful. . . . Songs for the End of the World would be a riveting read at any time with its rich array of inter-connected stories, featuring characters in a wide variety of time periods and places. . . . There is definitely a hopeful message and, though it doesn't gloss over the dark side of how we react to a horrible catastrophe, in the end it's all about people coming together in the darkest of times." —Montreal Gazette

"A haunting and ultimately hopeful story, told by a half-dozen intricately linked characters who struggle to face down panic and despair, about the fragility of human connection and the lengths to which even ordinary people will go to keep it alive." —Brian Bethune, Maclean's

"Astounding. . . . The book is surprisingly reassuring. If someone could have imagined what we're going through in such vivid details, it somehow makes the situation less scary, less predictable, more knowable." —Globe and Mail

"Songs for the End of the World is a world apart from many of the dystopian stories that preceded it. Rather than honing in on panic, Nawaz focuses on family, love and community—experiences that may closely echo what we're all going through right now. . . . Immersive and hopeful, her book is as a reminder that we are not alone, even in the most troubling of times." —Maisonneuve

"A total page-turner . . . Surprisingly hopeful to read." —Becky Toyne, CBC Radio's Day 6

"A study in how humans react in the face of the daunting unknown. While some disaster-themed books, films, TV shows and the like depict chaos, vigilantism and societal breakdown, Nawaz highlights the ways in which people connect and foster a sense of community in the face of such widespread disaster. . . . [Emphasizes] the humanity of her characters—the ways in which they persevere and come together in the face of adversity." —Winnipeg Free Press

"In these dark days, Saleema Nawaz dares to write of hope. Songs for the End of the World is a loving, vivid, tenderly felt novel about men, women, and a possible apocalypse. I couldn't put it down." —Sean Michaels, author of Us Conductors and The Wagers
McClelland & Stewart, 9780771072598, 440pp.
Publication Date: August 24, 2021
About the Author
SALEEMA NAWAZ is the author of two novels, most recently, Songs for the End of the World. Her first novel, Bone and Bread, won the Quebec Writers' Federation Paragraphe Hugh MacLennan Prize for Fiction and was a finalist for the 2016 Canada Reads competition. She is also the author of the short story collection Mother Superior, and a winner of the Writers' Trust of Canada / McClelland & Stewart Journey Prize. Born and raised in Ottawa, she currently lives in Montreal.