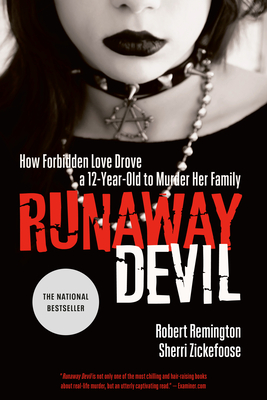 Runaway Devil: How Forbidden Love Drove a 12-Year-Old to Murder Her Family (Paperback)
How Forbidden Love Drove a 12-Year-Old to Murder Her Family
McClelland & Stewart, 9780771073618, 296pp.
Publication Date: September 7, 2010
Description
Marc and Debra seemed to have it all a lovely home in the Prairie town of Medicine Hat, fulfilling careers, a supportive marriage, and two beautiful children: eight-year-old Jacob and twelve-year-old JR. After years of struggle to reach this point, they finally felt their future held promise. But on April 23, 2006, their bodies were discovered in their basement, covered in savage stab wounds. Upstairs, Jacob lay dead on his bed, his toys spattered with blood.
Investigators worried for JR's safety, but unknown to them, the pretty honour roll student had been developing a disturbing alter ego online. Runaway Devil professed a fondness for a darker world of death metal music, the goth subculture, and a love for Jeremy Steinke, a twenty-three-year-old high-school dropout who lived in a rundown trailer park. Soon, shocking evidence in JR's school locker printed here for the first time led police to believe the girl was a suspect in her family's murders.
The case horrified parents everywhere. Journalists Robert Remington and Sherri Zickefoose have been covering it from the beginning, and in
Runaway Devil
, they reveal what really happened: the unlikely young love, the teenage rebellion, a troubling world of adolescent drifters, and a small community torn apart by an unthinkable crime.
A modern cautionary tale,
Runaway Devil
is also a chilling portrait of an approval-seeking man smitten with a manipulative young girl who would stop at nothing to get what she wanted.
From the Hardcover edition.
About the Author
Award-winning journalist Robert Remington is a former columnist and editorial writer with the Calgary Herald and national correspondent for The National Post. He has also written for the Globe and Mail, was arts editor and sports editor at The Edmonton Journal, and a syndicated television columnist for United Features, New York. His journalism career has taken him to Pakistan, East Africa, India, Central Asia, Europe, the Middle East and Central America. He lives in Victoria, British Columbia. SHERRI ZICKEFOOSE is a crime reporter for the Calgary Herald. Her tenacious reporting on the case resulted in exclusive interviews with Jeremy Steinke's mother and other key figures in one of the most notorious crime stories in recent history. She writes daily about villains and victims, justice issues, and unlikely heroes. Please visit their website: www.runawaydevil.com."
Praise For Runaway Devil: How Forbidden Love Drove a 12-Year-Old to Murder Her Family…
A NATIONAL BESTSELLER

"A page-turning thrill."
— Publishers Weekly

"The authors have done a masterful job of crafting the true story like a crime novel … chilling and compelling."
— Fast Forward Weekly

"An authoritative account of the murders that rocked this city."
— Medicine Hat News

"Runaway Devil tells a story you don't forget…. gripping … I also commend Zickefoose and Remington on humanizing the victims."
— Peterborough Examiner

"A great read … powerful, scary, maddening, but you can't put it down."
— Gord Gillies, Global TV Calgary

"In spite of severe legal restrictions, Runaway Devil effectively details … a shocking Canadian triple murder… it brings to life the characters — the victims, the criminals and the supporting cast. This book does a better job than many in the genre."
— Winnipeg Free Press

"Well written, excellent, highly recommended."
— Reg Hampton, CTV News Calgary

"The book is a cautionary tale on several fronts: the perils of the Internet, Goth culture, heavy-metal music, violence in film."
— National Post

"Dogged reporting had led the pair to countless scoops and insights into the bizarre case even before the girl was taken to trial and found guilty of murder….[it's] as full a picture as we are likely to get into how the unimaginable happened."
— Calgary Herald

"Expert journalistic handling … Runaway Devil will have you checking the contents of your daughters' iPod and watching how much time she spends on social networking."
— January magazine

"Elegantly crafted and written, Runaway Devil is a fine attempt to explain the inexplicable."
— Elliott Leyton, author of Sole Survivor: Children Who Murder Their Families

"A finely constructed narrative of a horrific crime that shocked a nation … never again will I see youths hanging around a mall with nothing to do and not think about JR and Jeremy."
— Nick Pron, author of Lethal Marriage: The Unspeakable Crimes of Paul Bernardo and Karla Homolka
Advertisement