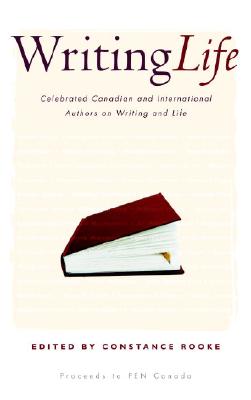 Writing Life (Paperback)
Celebrated Canadian and International Authors on Writing and Life
McClelland & Stewart, 9780771076251, 480pp.
Publication Date: June 27, 2006
* Individual store prices may vary.
Description
Since they were first published in the mid-1990s, PEN Canada's two previous fundraising anthologies, the widely acclaimed Writing Away and Writing Home, have raised $200,000 in support of PEN's vital work on behalf of free speech and writers in prison around the world. Now Writing Life, promises to be the most successful volume yet.

In Writing Life, fifty celebrated authors reveal surprising truths about what it means to be a writer, and about the sparks that can result when writing and life intersect — and sometimes collide. Provocative, candid, often very funny, personal, and passionately engaged, this inspired collection will take readers deep into the heart of the writing life.

Margaret Atwood revisits how she came to write five of her novels; Russell Banks reveals why he doesn't do research; John Berger and Michael Ondaatje discuss gate-crashing characters and the magical instant when a work begins; Joseph Boyden takes time out from promoting his first novel to go moose-hunting; Margaret Drabble considers the "wickedness" of stealing material from real life; Howard Engel describes the stroke that took away his ability to read, and where that left him as a writer; Yann Martel reflects on the impossible, necessary challenge of writing about the Holocaust; Lisa Moore shows how crucial the mess and vitality of family life are to her writing; Alice Munro shares why she might "give up" writing; Rosemary Sullivan negotiates the risks and responsibilities that come with telling the story of a life; Susan Swan wrestles with historical fact, fiction, and Casanova.

Proceeds from this volume will go to PEN Canada in support of its vital work on behalf of writers in prison around the world and in defence of freedom of expression both in Canada and abroad.

Writing Life Contributors List
André Alexis
Margaret Atwood
Russell Banks
David Bergen
John Berger
George Bowering
Marilyn Bowering
Joseph Boyden
Di Brandt
Barry Callaghan
Lynn Coady
Susan Coyne
Michael Crummey
Margaret Drabble
Bernice Eisenstein
Howard Engel
Damon Galgut
Jonathan Garfinkel
Greg Gatenby
Camilla Gibb
Charlotte Gray
Elizabeth Hay
Michael Helm
Sheila Heti
Annabel Lyon
David Macfarlane
Alistair MacLeod
Margaret MacMillan
Alberto Manguel
Yann Martel
Anne Michaels
Rohinton Mistry
Lisa Moore
Shani Mootoo
Alice Munro
Susan Musgrave
Michael Ondaatje
Anna Porter
Eden Robinson
Marilynne Robinson
Peter Robinson
John Ralston Saul
Shyam Selvadurai
Russell Smith
Rosemary Sullivan
Susan Swan
Madeleine Thien
Jane Urquhart
Michael Winter
Patricia Young
About the Author
Constance Rooke is the President of PEN Canada and editor of two previous PEN Canada anthologies, Writing Away and Writing Home. An academic who has served as Chair of the Department of English and Associate Vice-President Academic at the University of Guelph, and as President of the University of Winnipeg, she is presently Director of the University of Guelph's new Master of Fine Arts Program in Creative Writing at the University of Guelph-Humber. She is the author of several critical books, including Fear of the Open Heart: Essays on Contemporary Canadian Writing, numerous text books, anthologies, short stories, book chapters, essays, and reviews, and for ten years was Editor of The Malahat Review. She lives in Toronto.
or
Not Currently Available for Direct Purchase