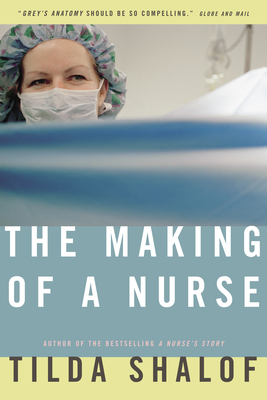 The Making of a Nurse (Paperback)
McClelland & Stewart, 9780771079832, 314pp.
Publication Date: March 25, 2008
* Individual store prices may vary.
or
Not Currently Available for Direct Purchase
Description
The bestselling author of "A Nurse's Story" is back with more insider stories.
Tilda Shalof has been a caregiver all her life at home for her family, at work for strangers but her skills didn t come easily. From when she was a child taking care of her sick parents to her current position on an ICU team in one of Canada's largest hospitals, there have always been daunting challenges and worthy rewards for her work. With her trademark humour, unflinching honesty, and skilled storytelling, Shalof describes her experiences becoming the capable nurse she is today.
After graduation from nurse's college, finding no jobs in Toronto, Shalof travelled to Tel Aviv, Israel, to work in a hospital for the first time, finding adventure and young love in the process. A summer stint as a camp nurse came with requests for condoms, strange allergies ( Misty has reactions, but we don t know to what ), and overly protective parents (also known as helicopter parents for their tendency to hover over their children). "The Making of a Nurse" contains these stories and much more, and they are comforting, entertaining, shocking, funny, heart-warming and heart-wrenching. From hospitals to home care, they will give readers a glimpse into the life of a nurse and the hidden medical world.
"From the Hardcover edition.
About the Author
Tilda Shalof is an intensive care unit nurse with twenty years of experience in Israel, New York, and Canada. Her first book, "A Nurse s Story: Life, Death, and In-Between in an Intensive Care Unit," was a bestseller that received rave reviews. She lives with her husband and two sons in Toronto. "From the Hardcover edition.""
Praise For The Making of a Nurse…
"Grey's Anatomy should be so compelling. . . . The book, a follow-up to her first effort, the bestselling A Nurse's Story: Life, Death, and In-Between in an Intensive Care Unit, seems intended to answer two questions that pester the career nurse: How did you choose that profession? And why have you stuck it out for so long? Marshalling her considerable charm, a knack for vivid images and a crash cart jammed with real-life stories, Shalof fashions answers that are nuanced and often heart-wrenching."
— Globe and Mail

"The book is an enthralling marriage of drama and introspection, narrative and analysis that never flags and never loses the reader's attention. . . . Much of The Making of a Nurse reads with a crackling vitality, an as-it-happens energy that captures the intensity of the environment and her work, a world in which 'another day at the office' is an ongoing confrontation with illness and death."
— The Gazette (Montreal)

"The Making of a Nurse should find a variety of readers: readers of memoir, nurses, those seeking a good story all will find much to savour here. One hopes, though, it will find readers among people seeking a way to find meaning in their lives, a way to put their caring and patience to good use. It is comforting to know that there are nurses (and writers) like Tilda Shalof out there; would that there were more like her."
— Ottawa Citizen

Praise for A Nurse's Story:

"A cracking good read. . . ."
— Quill & Quire

"There are genuinely heart-rending, disturbing and thought-provoking stories to be found in the pages of A Nurse's Story. If this book doesn't give you pause, you're made of stone."
— Edmonton Journal

"[It is] difficult to put down, so compelling and beautifully written are these stories. . . . Shalof's stories are naked and vulnerable."
— Winnipeg Free Press
Advertisement