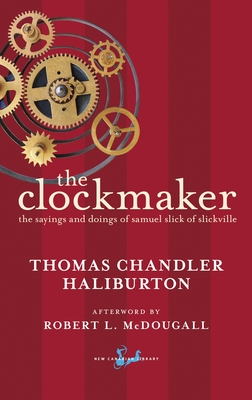 The Clockmaker: Or the Sayings and Doings of Samuel Slick, of Slickville (Paperback)
Or the Sayings and Doings of Samuel Slick, of Slickville
New Canadian Library, 9780771096259, 226pp.
Publication Date: December 4, 2007
* Individual store prices may vary.
or
Not Currently Available for Direct Purchase
Description
Sam Slick of Slickville, Connecticut, is a Yankee clock-peddler who accompanies a visiting English gentleman on an unforgettable tour of early nineteenth-century Nova Scotia. His shrewd observations and witty commentaries make up the thirty-three sketches of "The Clockmaker."
First serialized in 1835 and 1836 and then published together in late 1836 in response to public demand, the sketches of "The Clockmaker" established Judge Thomas Chandler Haliburton as a satirical humorist of international stature.
The New Canadian Library edition is an unabridged reprint of the complete original text.
"From the Paperback edition.
About the Author
Thomas Chandler Haliburton was born in Windsor, Nova Scotia, in 1796. He studied at King s College and was called to the bar in 1820. He practised law in Annapolis Royal and represented that constituency in the provincial assembly from 1826 to 1829. Named a judge of the Inferior Court of Common Pleas in 1829, he was elevated twelve years later to the Supreme Court of Nova Scotia.

Haliburton began his writing career as a historian. In the 1830s he turned to humorous and satirical fiction to express his Tory opinions on political and social questions. In 1835 he contributed to Joseph Howe s journal "The Novascotian" a series of satirical sketches entitled Recollections of Nova Scotia. Their popularity led him to expand them into "The Clockmaker; or, The Sayings and Doings of Samuel Slick, of Slickville" (1836). He published a second series of sketches in 1838 and a third in 1840.

In 1856 Haliburton retired and moved to England, where he represented Launceston in the House of Commons from 1859 to 1865.

Thomas Chandler Haliburton died in Isleworth, Middlesex, England, in 1865. "From the Paperback edition.""
Advertisement