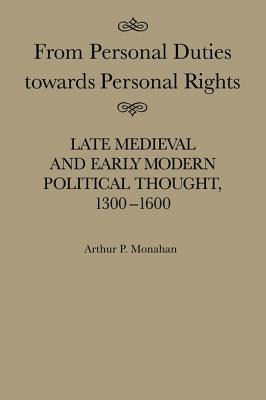 From Personal Duties Towards Personal Rights (Hardcover)
Late Medieval and Early Modern Political Thought, 1300-1600
McGill-Queen's University Press, 9780773510173, 472pp.
Publication Date: June 30, 1994
* Individual store prices may vary.
Description
Part One examines the late medieval northern Italian city-state republics and the humanist depiction of their form of polity. Part Two reviews the legal (principally canonical) and political thought behind the development of a theory of popular consent and limited authority employed to resolve the Great Schism in the Western church. Part Three describes sixteenth-century Spanish neoscholastic political writings and their application to Reformation Europe and Spanish colonial expansion in the New World. Part Four examines the political thought of some of those who responded to new problems in church/state relations caused by the fracturing of medieval Christendom in the West: Luther, Calvin, and other Reformation writers; the Protestant resistance pamphleteers; and Richard Hooker. Featuring an extensive bibliography, From Personal Duties towards Personal Rights will be of specific interest to intellectual historians as well as historians of political ideas and political theories and students in history, political science, and religious studies.
About the Author
or
Not Currently Available for Direct Purchase