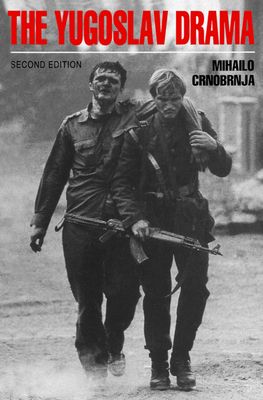 The Yugoslav Drama (Paperback)
Second Edition
McGill-Queen's University Press, 9780773514294
Publication Date: April 29, 1996
* Individual store prices may vary.
Description
Crnobrnja discusses in detail the part of the drama most visible to the world -- the rapid dissolution of the country following civil war and internationalization. He emphasizes the dichotomy between the lack of compromise on the part of the Yugoslav participants and the natural tendency to compromise that characterizes both the European Communities and the processes and actions of the United Nations. In a synthesis of the immediate situation, he draws together the threads of the story to consider and analyse possible future scenarios and to place them in a broader Balkan and European context. The updated second edition provides an evaluation of events in the ongoing struggle over the last two years and the prospects for peace in the near future.
Praise For The Yugoslav Drama: Second Edition…
"The Yugoslav Drama is a first-class examination of the tragedy that has overtaken that benighted country. Hopefully it will help us all learn from this disaster how to prevent similar occurrences in the future." Lawrence S. Eagleburger, former United States Secretary of State. "One of the best of the many recent books on the subject ... Crnobrnja's account of Yugoslavia's collapse and the forces that led to it is lucid, thoughtful, well-written and comprehensive ... This book offers great insight into the tortured demise of a once-stable federation." John M. Fraser, Ottawa Citizen. "Crnobrnja has provided a highly readable and historically informed account of the disintegration of the south Slav federation. His narrative underscores what many Western journalists and politicians have normally ignored: that the failure of Yugoslavia was the failure of politics, not the triumph of 'ancient hatreds' or 'Balkan mentalities.'" Charles King, International Journal.
or
Not Currently Available for Direct Purchase