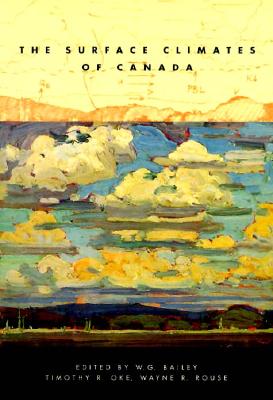 The Surface Climates of Canada (Canadian Association of Geographers Series in Canadian Geography #4)
Paperback

* Individual store prices may vary.
Description
In the opening chapters contributors lay out the large-scale context of the physical climate of Canada, introducing the processes, balances, and dynamic linkages between the surface and atmosphere that create and maintain the diversity of surface climates found in Canada as well as outlining the nature of the physical processes that operate near the ground's surface. Individual chapters are dedicated to snow and ice - the almost universal surface cover in Canada - and the other major natural surface environments of Canada: ocean and coastal zones, fresh water lakes, wetlands, arctic islands, low arctic and subarctic lands, forests, and alpine environments. The final part of the book considers those surface environments that have been strongly influenced by human activity, such as agricultural lands and urban environments, and examines the prospects for future climate change. Bringing together for the first time a wide range of scholarship by leading climatologists, The Surface Climates of Canada will be an indispensable tool for understanding Canada's surface climates and the processes responsible for their creation and control. Contributors include Brian D. Amiro (AECL), W.G. Bailey (Simon Fraser), Richard Bello (York), Terry J. Gillespie (Guelph), Barry E. Goodison (Atmospheric Environment Service), F. Kenneth Hare (emeritus professor, Toronto), L.D. Danny Harvey (Toronto), Owen Hertzman (Dalhousie), Peter M. Lafleur (Trent), J. Harry McCaughey (Queen's), Linda Mortsch (Environment Canada), R. Ted Munn (Toronto), D. Scott Munro (Toronto), Atsumu Ohmura (Swiss Federal Institute of Technology), Timothy R. Oke (UBC), John W. Pomeroy (Environment Canada), Alexander W. Robertson (Canadian Forest Service), Nigel T. Roulet (McGill), Wayne R. Rouse (McMaster), Ian R. Saunders (Simon Fraser), William M. Schertzer (Environment Canada), Hans-Peter Schmid (Indiana), David L. Spittlehouse (BC Ministry of Forests), Douw G. Steyn (UBC), John L. Walmsley (Atmospheric Environment Service), John D. Wilson (Alberta), Ming-Ko Woo (McMaster).
Praise For The Surface Climates of Canada (Canadian Association of Geographers Series in Canadian Geography #4)…
"The Surface Climates of Canada represents new perspectives and interpretations of how the surface is linked to the lower atmosphere - an important issue in global and regional climate and the notion of surface change on the globe. It fills a niche in updating what physical climatology is and how it can be applied to understanding landscape itself." Tony Brazel, Department of Geography, Arizona State University
McGill-Queen's University Press, 9780773516724, 400pp.
Publication Date: November 3, 1997
or
Not Currently Available for Direct Purchase