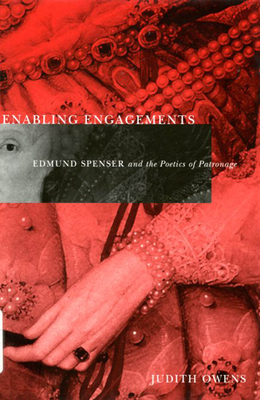 Enabling Engagements
Edmund Spenser and the Poetics of Patronage
Hardcover

* Individual store prices may vary.
Description
Enabling Engagements contributes to current critical debates regarding early modern subjectivity and early modern cultural capital. In stressing the boldness of Edmund Spenser's poetics of patronage, Judith Owens shows that Elizabethans could and did exercise agency within a wide range of institutions. By consistently challenging assumptions of courtly hegemony in early modern society, Owens suggests a new appraisal of the processes of cultural commodification. Enabling Engagements challenges conventional assessments of Spenser as court-centred and of patronal relations in the early modern period as asymmetrical and prescriptive. Owens demonstrates that Spenser exercised a vigorous sense of agency within the close quarters of patronage and courtly culture, fashioning his laureate's role and envisioning nationhood in resistance to the centre. She shows that his independence from court-centred values and tropes informed his poetics from the start of his publishing career, not just as a result of increasing disillusionment with the court. Owens develops detailed readings of Spenser's poetry and his paratextual material in The Shepheardes Calender, the 1590 Faerie Queene, and Complaints, providing contexts that are both broader and more varied than those usually accorded Spenser's poetry. She extends the horizons of The Faerie Queene in particular to include not only court and sovereign but also London, the material conditions of early modern publishing, and Ireland. Bringing together concerns usually approached individually, she shows us a Spenser who is neither the careerist of much recent criticism nor the Elizabethan propagandist of long-standing custom.
Praise For Enabling Engagements: Edmund Spenser and the Poetics of Patronage…
"Clear and impressive. This is a serious advance in state-of-the-art research and makes a fascinating case for a major revision of the ways in which most scholars chart Spenser's career and his attitudes toward that career." Joanne Craig. Department of English, Bishop's University ----- "Owens' fine and carefully argued study examines and interrogates the conventional idea of Spenser as a poet wholly committed to the court, to Protestant imperialism, and to monarchic hegemony. Her research is thorough and up-to-date. She not only synthesizes the scholarly arguments of others, but clarifies her departures and disagreements." Patricia Demers, Department of English, University of Alberta
McGill-Queen's University Press, 9780773523319, 192pp.
Publication Date: April 4, 2002
About the Author
CA
or
Not Currently Available for Direct Purchase