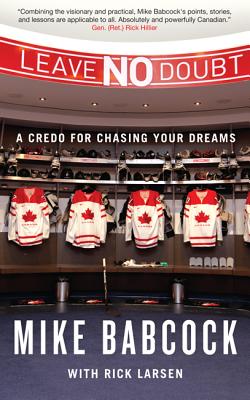 Leave No Doubt (Hardcover)
A Credo for Chasing Your Dreams
McGill-Queen's University Press, 9780773540316, 146pp.
Publication Date: March 20, 2012
Other Editions of This Title:
Paperback (7/15/2014)
* Individual store prices may vary.
Description
Mike Babcock is the only hockey coach in the history of the game to lead teams to victory in the Stanley Cup, the World Championship, and the Olympic Games. Currently head coach for the Detroit Red Wings, he is arguably the best coach in the game today. In this book, against the dramatic backdrop of the Canadian men's gold medal victory in Vancouver, Babcock provides an inspiring roadmap for achieving goals and fulfilling dreams. This is not just a book about hockey but a book about life, rooted in Babcock's "Leave No Doubt" credo. Written by Babcock and his longtime friend Rick Larsen, the credo hung on Team Canada's dressing-room wall during their historic run to Olympic gold. It provides a compelling framework for excelling in life. Illuminated by revealing stories about overcoming doubt, "owning pressure," and making a difference, "Leave No Doubt" is based on a firm belief in everyday commitment and a step by step approach to being "better than good enough." The words originally written for Canada's Olympic gold medal hockey team - leave no doubt, every day counts, our determination will define us - inspire an approach to succeeding in life that is relevant to people of all interests and ambitions. Athlete or not, each of us will find valuable guidance in this succinct primer from one of the most respected leaders in sports.
About the Author
Mike Babcock coaches the Detroit Red Wings and is two-time head coach of Canada s men s hockey team in the 2010 Vancouver and 2014 Sochi Winter Olympic Games. Rick Larsen is principal at Episode 96 Consulting in Chicago."
Praise For Leave No Doubt: A Credo for Chasing Your Dreams…
"This is a story about a belief in what's possible, about seizing the moment we are all given and about what truly lives deep inside the heart of a leader - a desire so powerful that no force can block its path. Mike Babcock saw the winning goal long before it was scored. He had to. Leave No Doubt is a chronicle about vision, about effort, teamwork, heartbreak, and destiny. A truth about confronting fear and giving a country a moment in time. Leadership in black and white!" John Furlong, CEO, Vancouver 2010 Olympic & Paralympic Winter Games
"I was inspired by Leave No Doubt in part because everything in it resonated with me. Following your dreams, but with your eyes wide open and with a plan to realize those dreams, is something all of us would do well to hoist aboard. Combining the visionar
"Leave No Doubt is truly an inspirational read. [Babcock's] views on life, on commitment, on hard work, apply to everybody." Pierre LeBrun, ESPN
or
Not Currently Available for Direct Purchase