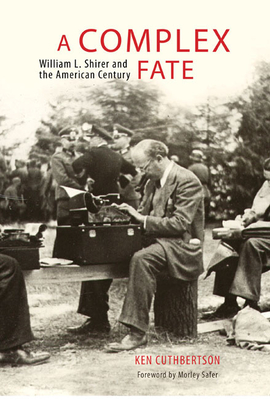 A Complex Fate (Hardcover)
William L. Shirer and the American Century
McGill-Queen's University Press, 9780773545441, 580pp.
Publication Date: May 1, 2015
* Individual store prices may vary.
Description
William Shirer (1904-1993), a star foreign correspondent with the Chicago Tribune in the 1920s and '30s, was a prominent member of what one contemporary observer described as an extraordinary band of American journalists, "some with the Midwest hayseed still in their hair," who gave their North American audiences a visceral sense of how Europe was spiralling into chaos and war. In 1937, Shirer left print journalism and became the first of the now legendary "Murrow boys," working as an on-air partner to the iconic CBS broadcaster Edward R. Murrow. With Shirer reporting from inside Nazi Germany and Murrow from blitz-ravaged London, the pair built CBS's European news operation into the industry leader and, in the process, revolutionized broadcasting. But after the war ended, the Shirer-Murrow relationship shattered. Shirer lost his job and by 1950 found himself blacklisted as a supposed Communist sympathizer. After nearly a decade in the professional wilderness, he began work on The Rise and Fall of the Third Reich. Published in 1960, Shirer's magnum opus sold millions of copies and was hailed as the masterwork that would "ensure his reputation as long as humankind reads." Ken Cuthbertson's A Complex Fate is a thought-provoking, richly detailed biography of William Shirer. Written with the full cooperation of Shirer's family, and generously illustrated with photographs, it introduces a new generation of readers to a supremely talented, complex writer, while placing into historical context some of the pivotal media developments of our time.
About the Author
Ken Cuthbertson is the author of three previous books. His biography of the American journalist John Gunther, Inside, was shortlisted for the Governor General's Award. He lives in Kingston, Ontario.
Praise For A Complex Fate: William L. Shirer and the American Century…
"This book has an almost Shakespearian quality: larger-than-life characters, broken friendships, pride and regret, all set against a background of war and depredation. It is also an in memoriam to an era of brilliant reporting, which to this day remains elegant, accurate, and admirable. May it ever be so." Morley Safer from the foreward
"This engaging account of Shirer's life and groundbreaking accomplishments during tumultuous times raises such fundamental journalistic issues as objectivity, corporate sponsorship, censorship, political correctness, wartime embedded reporting, and contem
"A Complex Fate delves into the reasons for Shirer's excellence as a journalist, and like a Greek tragedy, explores why those very same traits - his intelligence, ego, autodidactic streak, uncompromising search for the truth, and iron will - threatened to
"Cuth¬bertson recounts the improvised thrill of the first-ever roundup from correspondents dotted all across Europe beaming the voices back to the United States, a model for network television broadcasts to this day but an outright marvel at the time." Th
"Ken Cuthbertson's 'A Complex Fate' is a thought-provoking, richly detailed biography of Shirer. Written with the full cooperation of Shirer's family, and generously illustrated with photographs, it introduces a new generation of readers to a supremely t
Coverage from NPR
or
Not Currently Available for Direct Purchase