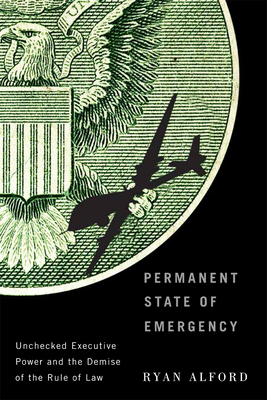 Permanent State of Emergency
Unchecked Executive Power and the Demise of the Rule of Law
Hardcover

* Individual store prices may vary.
Description
In the wake of the attacks of September 11, 2001, the United States launched initiatives that test the limits of international human rights law. The indefinite detention and torture of detainees at Guantánamo Bay, targeted killing, and mass surveillance require an expansion of executive authority that negates the rule of law. In Permanent State of Emergency, Ryan Alford establishes that the ongoing failure to address human rights abuses is a symptom of the most serious constitutional crisis in American history. Instead of curbing the increase in executive power, Congress and the courts facilitated the breakdown of the nation's constitutional order and set the stage for presidential supremacy. The presidency, Alford argues, is now more than imperial: it is an elective dictatorship. Providing both an overview and a systematic analysis of the new regime, he objectively demonstrates that it does not meet even the minimum requirements of the rule of law. At this critical juncture in American democracy, Permanent State of Emergency alerts the public to the structural transformation of the state and reiterates the importance of the constitutional limits of the American presidency.
Praise For Permanent State of Emergency: Unchecked Executive Power and the Demise of the Rule of Law…
"Every American schoolchild is taught that we live in a nation of laws. No one, not even the president, is above the law. As Ryan Alford documents with devastating clarity, successive presidential administrations have made a mockery of this ideal. The US experiment is in danger of degenerating into a democracy in name only, in which an out-of-control executive branch operates with impunity under a veneer of rubber-stamp checks and balances. Thanks to Alford's important work, no one can claim we weren't warned." Ted Rall, cartoonist and author of Trump: A Graphic Biography
"Permanent State of Emergency is a timely and important book – it is difficult to find a volume that combines a focus on the critical idea of the rule of law with discussion of the contemporary problem of executive power, and otherwise impossible to find one that firmly roots its discussion in the history of the American executive." Paul Gowder, author of The Rule of Law in the Real World
"Permanent State of Emergency offers a compelling historical and theoretical analysis of executive power from a unique perspective. In light of President Trump, the argument of the book has only become more pressing and urgent, making this an indispensable guide to both recent and current events." Robert Diab, Faculty of Law, Thompson Rivers University
McGill-Queen's University Press, 9780773549197, 336pp.
Publication Date: June 1, 2017
About the Author
Ryan Alford is assistant professor at the Bora Laskin Faculty of Law at Lakehead University.
or
Not Currently Available for Direct Purchase