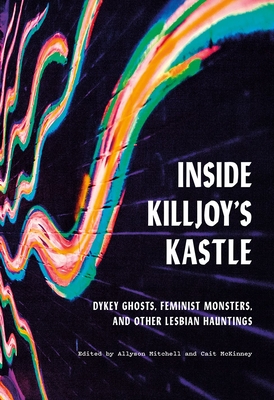 Inside Killjoy's Kastle (Paperback)
Dykey Ghosts, Feminist Monsters, and Other Lesbian Hauntings
University of British Columbia Press, 9780774861571, 280pp.
Publication Date: September 15, 2019
* Individual store prices may vary.
Description
Hundreds of years of ridicule, persecution, erasure, misunderstanding, and institutionalization could put anyone in a bad mood. Killjoy invites you into her kastle for a queer exorcism and celebration of the past.
Lesbian feminist histories can have a haunting effect on the present. This book explores the making and experience of Killjoy's Kastle, an immersive walk-through installation and performance artwork (by Allyson Mitchell and Deirdre Logue). Inspired by Evangelical Christian hell houses, the exhibition has been staged in four cities so far – Toronto, London, Los Angeles, and Philadelphia – engaging thousands in interactive encounters with the spirits that haunt feminist and queer history. Where traditional hell houses set out to scare and convert, Killjoy's Kastle cheekily aims to provoke and pervert. Inside Killjoy's Kastle extends and reflects on the theoretical and political legacies of the installation in chapters by queer and feminist scholars and in vignettes by participating artists. The many colourful photos in the book also bring the kastle to life, offering an important visual context.
About the Author
Allyson Mitchell is a maximalist artist working in sculpture, performance, installation, and film. She is based in Toronto, where she is an associate professor in the School of Gender, Sexuality and Women's Studies at York University and runs FAG Feminist Art Gallery with her partner, Deirdre Logue.Cait McKinney is an assistant professor in the School of Communication at Simon Fraser University. Their first book, on lesbian-feminist information histories, is forthcoming in 2020.
or
Not Currently Available for Direct Purchase