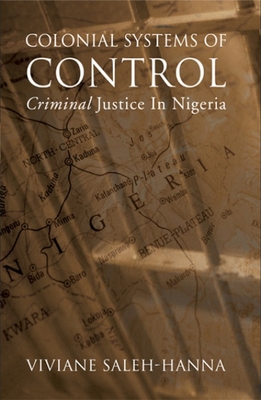 Colonial Systems of Control (Hardcover)
Criminal Justice in Nigeria
University of Ottawa Press, 9780776606668, 504pp.
Publication Date: April 18, 2008
* Individual store prices may vary.
Description
A pioneering book on prisons in West Africa, Colonial Systems of Control: Criminal Justice in Nigeria is the first comprehensive presentation of life inside a West African prison. Chapters by prisoners inside Kirikiri maximum security prison in Lagos, Nigeria are published alongside chapters by scholars and activists. While prisoners document the daily realities and struggles of life inside a Nigerian prison, scholar and human rights activist Viviane Saleh-Hanna provides historical, political, and academic contexts and analyses of the penal system in Nigeria. The European penal models and institutions imported to Nigeria during colonialism are exposed as intrinsically incoherent with the community-based conflict-resolution principles of most African social structures and justice models. This book presents the realities of imprisonment in Nigeria while contextualizing the colonial legacies that have resulted in the inhumane brutalities that are endured on a daily basis.
Keywords: Nigeria, West Africa, penal system, maximum-security prison.
About the Author
Viviane Saleh-Hanna is Assistant Professor of Crime and Justice Studies at the University of Massachusetts, Dartmouth. Dr. Saleh-Hanna is a criminologist turned abolitionist. Coptic and Palestinian in origin, Canadian in citizenship and PanAfricanist in her heart, she is an activist-scholar. Prior to moving to the United States, she lived in Nigeria and worked with prisoners along the West African coastline. Her book, Colonial Systems of Control: Criminal Justice in Nigeria (2008) is the first to include first-hand accounts by prisoners in West Africa and the first to provide an in-depth analysis of life inside West African prisons.
or
Not Currently Available for Direct Purchase